Affiliate Disclaimer:

This post may contain affiliate links, which means I make a small commission off purchases, at no extra cost to you. Read my full disclosure here.
Health & Safety Disclaimer

: This post may contain workout and health advice and information, designed for entertainment and/or educational purposes.  Without delay, always consult your doctor before trying out a new fitness regimen. Bodyweight MAX should not be used as a  substitute for professional medical services.
Calisthenics Academy – REVIEW
If you have read my stuff before, then you may be aware that I am not a huge fan of Convict Conditioning. There's too much nonsense that you have to deal with in order to get to the actual content, which in and of itself could be a lot better.  I'm not going into it again (just read the review if you are interested), but I want to say that Calisthenics Academy is designed with the same skeleton, only it is MUCH better in basically every way (and is still changing and improving).  Keep reading to understand why I am so impressed with the Calisthenics Academy program.
Program:  Calisthenics Academy
Creator:  Jeff Cowan
Length: No specific timeline
Required Equipment:  Pull-Up Bar
Purchase Calisthenics Academy Here
What Is Calisthenics Academy?
Created by Jeff Cowan but continually being expanded upon and improved by a team of trainers and web developers, Calisthenics Academy is a book, website and app training program that is designed to help anyone interested in calisthenics develop those cool skills you see all the bros do on YouTube.  It starts you with an assessment and once your training begins you will focus on fundamentals, but over time you are expected to be able to develop the strength and flexibility for some very advanced moves – as long as you stick with it.  If you liked the idea of Convict Conditioning but aren't a fan of its design, then you should definitely check out Calisthenics Academy!  It is exactly what CC should have been!  The foundation of Calisthenics Academy is based upon 8 Fundamental Moves.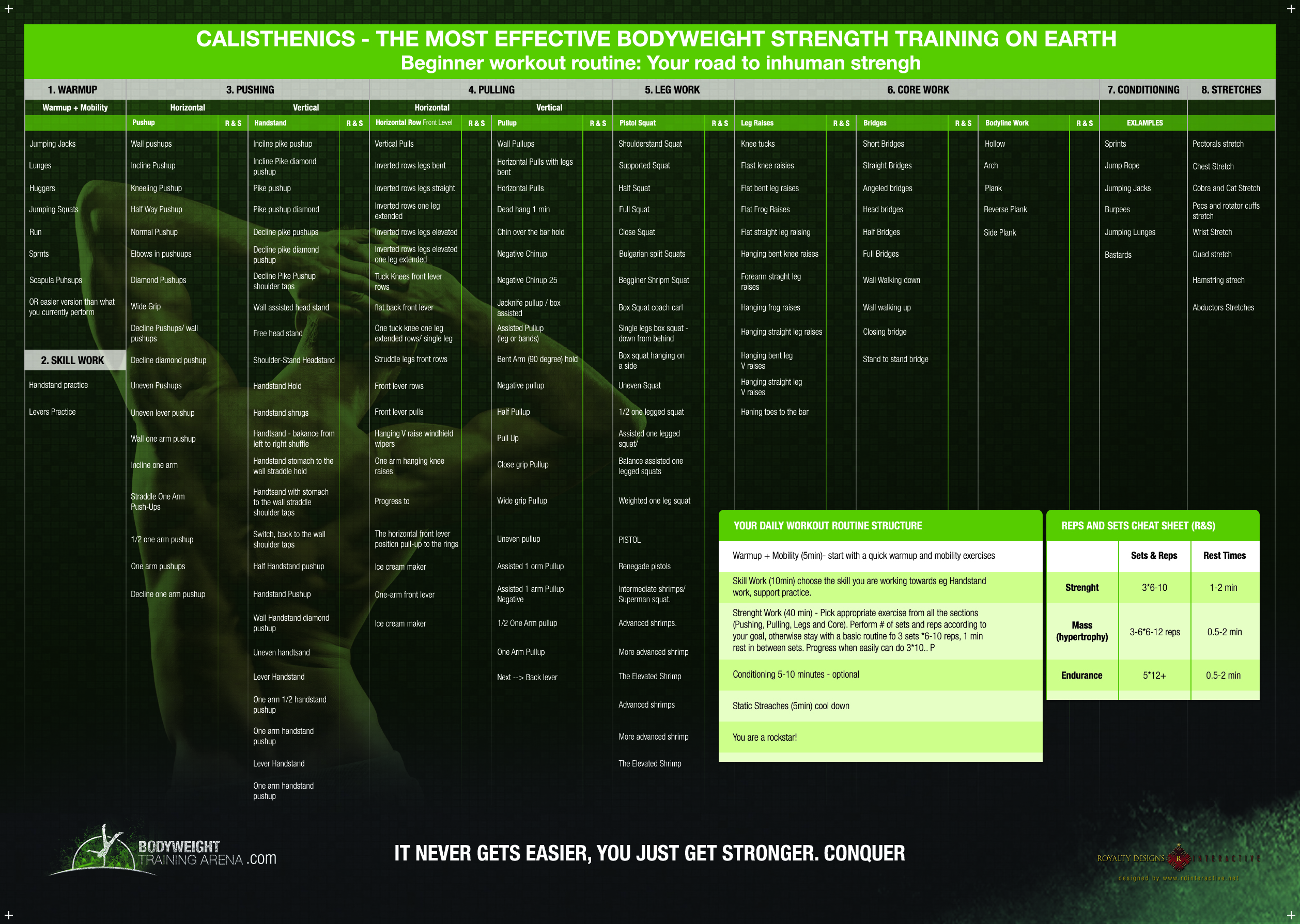 8 Fundamental Moves
Pistol Squat
Handstand Pushup
One Arm Hanging Leg Raises
One Arm Pushup
One Arm Pullup
Bridges
Plank-to-Planche
Horizontal Row
Created for all ages, experience levels, and fitness goals, Calisthenics Academy is designed to lead you up to these incredible skills with methodical progressions for your workouts.  They are typically full-body workouts and can be done based on your schedule and lifestyle.  Obviously, some people's progress will take much longer than others because of this.
Pros:
Progressions are realistic.  Depending on the move, you may have a LOT of work to do to progress up to the final move.  You have to be patient with Calisthenics Academy, and calisthenics in general.  There are no shortcuts, and Calisthenics Academy is not shy about letting you know that.
Designed for all ages and experience levels.  Since you are assessed at the beginning of the program, you don't have to waste time doing certain progressions that you know you can do with ease.  You start at a level that makes sense based on your current age, weight, fitness experience, etc.
Designed for your lifestyle and routine.  Whether you are busy parent or a teenager just getting started, the program includes different options for how you set up your workout routines from one progression to the next.  Again, some people will take longer than others to make progress depending on their lifestyle.  You can't change that.
Incredibly detailed without any nonsense.  I won't make too many more comparisons between Calisthenics Academy and Convict Conditioning, I promise!  But this one is important to me.  There is still a TON of information to read through in CA, but it is all directly related to the workouts, your nutrition, and how to get the most out of the program.  There aren't any annoying stories or long-winded build-ups to why knowing how to squat is so great.  Calisthenics Academy gets to the point, which is what we want in a training program.
Addresses plateaus.  This is something I wouldn't have thought of, but plateauing is all-too common in fitness.  CA recognizes that this will happen, and will target your weak points during your plateau to get you out of your rut.

Members gain access to quick tutorials.

A focus on nutrition.  There is an entire chapter dedicated to the importance of nutrition, which many beginners don't concern themselves with.  It is a huge part of fitness, so I am glad that CA emphasizes it.
Credible.  The author is Jeff Cowan.  You know who he is, and he takes a very up-front approach to the program.  He speaks in many of the videos, as well.
Track your progress.  Once purchased, you are a member of the program and can go online between workouts to track your progress.  You can print out the sheets as well, if you want access to everything offline.
Easy to use.  The book is very well organized, and you can easily find the section you need.  It also comes with a progression poster, which is extremely useful and may be all you need once you finish reading the book.
App is always improving.  They've since developed the Movement Athlete app, which I personally have not found a need for, but it is still there for those of you who want everything to be tracked on your phone.
Inexpensive.  At under $30, Calisthenics Academy is an amazing tool to help you develop the strength and skills for your bodyweight training goals, especially since it should last you a very long time – perhaps even your entire life.
Cons:
Bridges.  Like I said in my review of CC, I am just not a fan of bridges.  They are great on occasion since they target muscles that are often ignored, but you can also do deadlifts to strengthen your back muscle in a much safer way.
The book doesn't address some skills.  For certain popular moves like the muscle-up, you will have to get the app to begin tracking your progress. While the training will certainly help you make progress for other moves indirectly, you'll need to get the app for a more direct approach.
Calisthenics Academy – Overall
I strongly recommend Calisthenics Academy for anybody who is looking to either get started with bodyweight training, or anyone who has been exercising for a while but is ready to make progress towards advanced calisthenics moves.  The results will come in over time for those who are committed, and I just love the simple, straightforward design of the whole program.  It may have been inspired by Convict Conditioning, but Calisthenics Academy is SO much better!
My Score:  5 out of 5
Have you been using Calisthenics Academy?  How has your progress been coming along?  Let me know in the comments below!  And for other program reviews (including Convict Condition), click here.