Affiliate Disclaimer:

This post may contain affiliate links, which means I make a small commission off purchases, at no extra cost to you. Read my full disclosure here.
Health & Safety Disclaimer

: This post may contain workout and health advice and information, designed for entertainment and/or educational purposes.  Without delay, always consult your doctor before trying out a new fitness regimen. Bodyweight MAX should not be used as a  substitute for professional medical services.
I've reviewed some unusual products on my website, and I have another one to add to the list with this review: The Side Shaper Pro.  It's kind of like an ab roller, only it's a full set of equipment that has you "rolling" diagonally instead of horizontally.  It's marketed towards people who want to lose belly fat, but it also fits the niche of Bodyweight MAX since it provides a calisthenic workout.  But are there benefits for those who don't have the goal of losing weight?  Keep reading to learn more.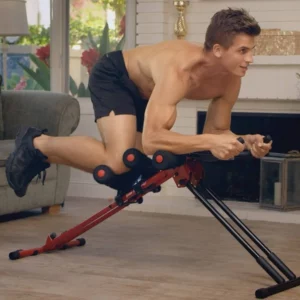 Side Shaper Pro – Specs
Equipment Type: Ab Roller alternative – AKA a "Reverse Crunch" machine
3 Difficulty Levels: Adjust the angle at which you use it based on your core strength
Foam Knee Rests and Forearm Rests:  To keep you comfortable and safe while working out.
Steel Design:  For safety and durability.
Bi-Lateral Swivel:  To help target your obliques as well as your abs.
LCD Display:  To monitor your workouts – calories burned, time spent, goal setting, and number of reps.
Foldable:  You can then wheel it out of the way and store it when you're done using it.
Weight:  About 28 pounds.
Space Needed When In Use:  About 6ft x 4ft.
Free Shipping
30-Day Trial:  You can return the Side Shaper Pro if it is not right for you.
Price:  $345.99
Purchase the Side Shaper Pro with a 25% Off Discount Here!
Side Shaper Pro – The Different Ways to Use It
There is no denying that the Side Shaper Pro is a one-of-a-kind piece of workout equipment.  On top of that, it may make you feel a little goofy when you first start using it.  But the fact is, your abs will be burning by the end of the few minutes you spend on it.
"Reverse Crunches" – This is what they call them on their website, but I think the motion is closer to using an ab roller – just in a different direction.  Pull your knees up towards your chest, with the weight of your lower body and gravity acting as the resistance.
"Reverse Crunch" Holds – Holding the knee-tucked position is kind of like doing hanging knee raises and holding at the maximum height.  It's not easy, and you will feel the burn!
The swivel function also targets your obliques.  There is no reason not to angle your reps to the left and right.  Feel the burn in your ENTIRE core.
Short workouts.  The ads and website suggest that you only need to use it for five minutes a day to reap the benefits.  Personally, I think it's a great option for warmups before you begin your full-on workout.
Alter your speeds!  Try using the Side Shaper Pro with the Time Under Tension method in mind.  Changing the speed at which you use the item will drastically change how it affects you – it can be used for both cardio and anaerobic exercise.
Other than that, there are not any alternative ways to use the Side Shaper Pro that I can think of, at least in a safe and effective way.  The focus is the abs, and that immediately becomes obvious from your first rep.
Pros:
Truly effective for weight loss.  Bodyweight MAX is not a weight loss website, but since I'm reviewing the Side Shaper Pro it deserves to be mentioned.  If you use this regularly and correctly, your stomach will become tighter and stronger.  Obviously, nutrition will play a big part as well.
INTENSE ab workouts.  At first I couldn't use the Side Shaper Pro for the full five minutes – and I think I'm in decent shape!  This thing hits your abs hard, and they will burn especially when you first start using the product.  It felt like a had a stomach ache!
Having three angles for progressing is amazing.  This is so important to me, because if you're spending this much money on a product you want it to be effective for years to come.  It will take me a LONG time to progress beyond the lowest angle, which motivates me to keep using it so I can take it up a notch in the future.
Short workouts are all you need.  It will be hard to use this for more than five minutes anyway, no matter how strong you think your abs are.
Several ways to use it, despite its limited focus.  Complete your reps as fast as possible within a set time limit to get the heart rate up, burn more calories, and set goals for yourself.  Alternatively, do your reps very slowly to really feel the burn and add some strength to your hip flexors.
Refund policy is nice.  The Side Shaper Pro isn't for everyone, so it's reassuring to know you can return it within 30 days if you don't like it.
Sturdy, safe and long-lasting.  The Side Shaper Pro is solid steel, so you won't have to worry about wear and tear.  The foam cushions are comfortable, but also secure.  Just be sure to get on and off carefully, grip the handles securely, and you will be safe.
Foldable and has wheels.  When you're done using it, you can fold it up and roll it to the corner so it is out of the way.
Cons:
Limited focus for exercising.  This is the most obvious negative about the Side Shaper Pro.  While there is a bit of resistance for your upper and lower body, it does not compare to actual upper and lower body workouts.  Obviously, the focus here is on your abs.  That said, you will still need to work out the rest of your body in addition to using the Side Shaper Pro.
Expensive.  It will pay for itself as long as you use it regularly, but $346 is a heavy investment.  Don't buy it if you aren't sure you'll commit to it!
Side Shaper Pro Review – OVERALL
The Side Shaper Pro is an unusual but effective piece of calisthenic equipment.  I haven't seen or used anything like it, and it truly hits the abs HARD.  But, that's all it does!  You will need to exercise the rest of your body to stay in shape, in addition to the Side Shaper Pro.  Personally, I think it's useful for my warmups – sometimes I jump rope, sometimes I like the Side Shaper Pro.  No matter how you use it though, always remember to stretch!
My Score:  3.5 out of 5
Do you have the Side Shaper Pro?  How has it worked out for you?  Let me know in the comments below.