Affiliate Disclaimer:

This post may contain affiliate links, which means I make a small commission off purchases, at no extra cost to you. Read my full disclosure here.
Health & Safety Disclaimer

: This post may contain workout and health advice and information, designed for entertainment and/or educational purposes.  Without delay, always consult your doctor before trying out a new fitness regimen. Bodyweight MAX should not be used as a  substitute for professional medical services.
When you specialize in one thing, then you are hopefully pretty darn good at it.  Duonamic is an example of such a case.  They are a smaller company and, as of now, their main product is the Duonamic Eleviia – a pair of pull up handles that can hook over the top of a doorframe.  Remember my review of the Lifeline Portable Gym handles?  I couldn't help but compare the two when I first found out about Duonamic Eleviia.  But now that I've broken my pair in, my preference is without question the Duonamic Eleviia over the Lifeline Portable Gym handles.  Sure, they're way more expensive, but they are also sturdier and made of higher quality material, making them much safer to use (in my opinion).  Not to mention no annoying rubbing against the door or hurting your hands with chin-ups against that cushion!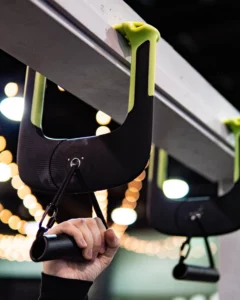 The Duonamic Eleviia are fairly compact and can fit into a small bag or suitcase with little issue, and they are surprisingly light and will add minimal weight while you travel with them.  While I haven't had a chance to travel with mine yet, I plan to very soon.  And, since they are a pair instead of a single bar, the options for variations and ranges of motion are much greater .
Duonamic Eleviia:  Specs and Facts
Equipment Type: Over the Door Pull Up Grips
Includes:  Two Grips Attached to Hook/Clamp thingies
Weight:  3.5lbs
Dimensions: 12in x 10in x 4.7in
Max Weight Supported:  125lbs per handle (250lbs with both)
No Set-Up Needed
Price:  $129.00 USD
Warranty:  1 year due to manufacturing defects
Return Policy:  30 days
<<Purchase Duonamic Eleviia Here – Use Coupon Code MAX10 for 10% off!>>
Duonamic Eleviia:  Special Features
Fits Most Door Frames: Open the latch, and let it close itself over the top of the door frame securely.
Small & Lightweight: They fit into any travel bag or suitcase without taking up too much room, and only weigh 3.5 pounds.
Unique Rubber Grips: Engineered with ergonomics and comfort in mind, while still giving you a challenging workout and allowing you to maintain your hold.
Rubber Latches Protect the Door Frame: The size and material of the latches that hold the Duonamic Eleviia in place were designed to prevent scratching or denting.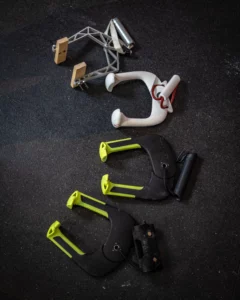 Pros:
Great for Travel.  Sadly, I will ditch my Lifeline Portable next time I travel and bring the Duonamic Eleviia.  Sorry Lifeline!  These are bigger than the Lifelines, but still small enough for travel.  So, this is my new go-to for travel workouts.
Easy to Hang.  Simply open the latch, lift it up under the top of the doorframe, and then let it close in securely.  It only takes a few seconds for each one.
Light and Compact.  Just throw them into a backpack with your books, laptop, whatever.  They are really that convenient.
Sturdy and Safe.  The top of the doorframe holding up the quality material in the latches makes them safe to use without worrying about them breaking or slipping off the frame.
Potential for Variations and Progressions.  So long as your doorframe is wide enough, you can do a lot with these!  I've been working on my lever and skin-the-cats since I got mine.
Great for Hanging Core Exercise.  Just like any pull up bar, the Duonamic Eleviia let you do leg lifts, knee raises, hanging L holds, and many other core strength exercises.
Free-Hanging Nature Increases the Challenge.  These will force you to work on your stability with EVERY exercise you do.  You will become more stable without even realizing it.
You Can Hang Gymnastic Rings On Them.  Perform even more moves and get stronger with your rings, since these are stable enough to secure your rings.  Keep increasing the challenge!
Generous Warranty and Return Policy.  I haven't had mine for a year yet, but I don't think I'll need to take advantage of the warranty policy.  These really are high quality items, but they will refund you if needed.
Cons:
Expensive.  Seeing that $129 pricetag was a bit of a gut punch… But I stand by my purchase and I truly believe I've gotten my money's worth.  I use them every day now, and they show no sign of wear or tear.  Still… you may want to save up for them.
Check Your Doorframes Before Purchasing!  Right after I bought mine, I looked at the nearest doorframe…  The tops were not the same on each side – one was thicker and higher, the other was shorter and thin.  The Duonamic Eleviia ONLY will latch onto doorframes that have EQUAL dimensions at the top.  Thankfully, I have numerous other doorframes that work for me.  Few!
Single-Arm Exercises Aren't Recommended. While it might be safe, I would advise against 1-arm pull ups on the Duonamic Eleviia, just in case the weight limit is surpassed.  You can train for them (grip both, favor one arm over the other), but don't actually do the real thing with just one handle.
Duonamic Eleviia:  Overall
If I weren't such a sentimental sap, I'd probably donate my over-the-door pull up bars and exclusively use my Duonamic Eleviia.  But, I will keep the bars just in case!  That said, this pair of doodads is a fantastic addition to your home workout routine, AND your travel workout routine.  The challenge they provide, along with the safe and durable nature, make them one of my strongest recommendations yet.  When you feel you're ready to fork over the dough, you will quickly realize you made the right choice!  I seriously love my Duonamic Eleviia!  And as always, remember to stretch!
My Score:  5 out of 5
Do you have a pair of the Duonamic Eleviia?  How have they worked out for you?  Let me know in the comments below!