Affiliate Disclaimer:

This post may contain affiliate links, which means I make a small commission off purchases, at no extra cost to you. Read my full disclosure here.
Health & Safety Disclaimer

: This post may contain workout and health advice and information, designed for entertainment and/or educational purposes.  Without delay, always consult your doctor before trying out a new fitness regimen. Bodyweight MAX should not be used as a  substitute for professional medical services.

Thenx Review:
For anyone beginning their calisthenics journey and doing research online, they will probably come across a fella named Chris Heria.  He is pretty easy to spot.  Heria is one of the most recognized experts in the field of calisthenics, thanks in large part to his YouTube channel.  He has developed such a huge following that he even has his own line of equipment.  Taking it one step further, Heria has released his very own calisthenics workout program:  an app called Thenx.  Available on Google Play and the App Store, Thenx is designed to build a strong foundation for you to progress into the best shape of your life using only bodyweight exercises.  But is it all it's cracked up to be?  Read my Thenx Review to learn more.
Program:  Thenx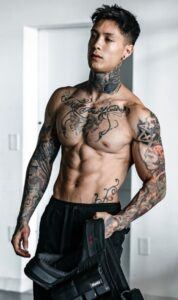 Creator:  Chris Heria
Length: 8 weeks per program, but greatly varies
Required Equipment:  Pull-Up Bar, Dip/Parallel Bars or Parrallettes
Suggested Equipment: Free weights, weighted vest or belt, resistance bands, gymnastic rings (for Advanced levels)
Thenx Review:
Thenx is a calisthenics program that is housed in the titular phone or tablet app.  Beginners or anyone unsure about their level of commitment can start with its free version, which includes a number of workouts in and of itself.  The paid membership is either $10/month, or $100 for a year, and opens up an enormous number of new workouts and progression guides including handstands, planches, and more.  Slow and steady is the philosophy with Thenx, because if you aren't able to hit 100% on a week's workout, then it suggests redoing that same workout next week.
My first suggestion with my Thenx Review is, no matter your skill level, start with the free daily workouts to see if the program is a good fit for you – this is not based on the level of difficulty so much as the time commitments, the user interface being to your liking, and whether or not you need the structure that Thenx requires.  Once you pay for a membership, there is a LOT to explore and work on.  The intention is to offer a routine and, overall, a lifestyle change, but there is a level of commitment that is required.  Playing devil's advocate, many of the workouts, videos, and progression advice on Thenx is already easy to find online for free.  So, the structure that Thenx provides can definitely give you the results you want, especially if you aren't willing or able to create your own routines.
Pros:
Free Daily Workouts.  If you aren't sure yet, try the free daily workouts.  Despite the annoying ads, beginners should find themselves improving, and intermediate/advanced users should be able to tell if Thenx is a good program for them.  It lasts longer than you'd expect – don't be surprised if you hit a full month or so before you've run through everything.
Membership Unlocks Tons of Content.  More beginner content, plus intermediate and expert content.  This includes skills training, training plans, daily workouts, and a community forum.
Interface Is Clean and Easy.  They have recently cleaned the app up even more, getting rid of bugs and speeding up loading times.  It is simply to navigate.

The app has a clean UI.

Progressions for Calisthenics Skills.  One of the main reasons I got Thenx was so I could finally master my handstand and muscle up.  If you really stick with it, I could see that possibly happening.
Points Out Weak Areas.  If you are struggling with specific moves and workouts, Thenx keeps track of your progress and lets you know which muscles/exercises need more work.
Daily Workouts & Entire Programs for Variety. Thenx has a new updated workout every day, which is very cool and keeps things exciting if you want something different from the programs, which include Beginner, Intermediate and Advanced.  These workouts always have a different focus:  it could be a muscle area, endurance, a fully body workout, or something else.  Regarding the programs, there are a LOT to choose from, which gives you the bang for your buck – free weights workouts, weighted calisthenics, no equipment, etc. – all ranging in difficulty levels.
Provides Structure.  Perhaps the best part of Thenx for beginners is that it takes away the responsibility to set up your own routines.  It is all there for you – all you have to do is load up the program and/or go to the website and log in.
A Fair Price.  Comparing this to, say, a gym membership and assuming that you are truly committed, then Thenx is a great deal at only $100 for a full year's membership.  You should get your money's worth if you can and will make the effort.
Cons:
Exhausting and Long Workouts.  To be honest, this is one of the main reasons my Thenx review score will be lower than other programs.  I felt deflated many times during my few months of Thenx.  The workouts usually lasted well over an hour, and the exercises are intense with short rests in between (30 seconds).  I don't consider myself a beginner, so I can only imagine what some of these workouts do for newcomers.
Not Enough Rest Days.  Going along with the above, I think three rest days is better than the one or two that Thenx has on its calendars.  The program is so intense that it made me dread the day's workout as I woke up in the morning.  Being tired will NOT help you make progress.
Unrealistic Expectations.  This complaint goes beyond just, ie, a Beginners Workout expecting to achieve an L-Sit.  It also includes the unclear instructions that newcomers won't understand.  What muscles do you focus on for the Pike Pushup?  How fast or slow should you do Mountain Climbers during the 30 second countdown?  We aren't you, Chris Heria!  We don't do handstands during our warmup routines like you do, so how do you expect us to have proper form with a Wall Walk?  This bothered me a LOT.
Not Much Customer Support.  You can always email Thenx or leave comments on videos, but the best feedback you will get is from other Thenx users.
I Made Little Progress With My Skills.  I still can't do a muscle up and don't feel any closer to achieving it after working on the Muscle Up program.  My handstand has improved though, and I've even held a handstand for about five seconds without a wall.  Still, I'm usually afraid to do the handstand without a wall nearby because while my strength is better, my balance is still a huge obstacle.  There are better progression guides out there than Thenx, is what I'm trying to say.
All This Can Be Found Online for Free.  Yes, Thenx is GREAT for the structure it provides.  But I did not see any advantage of paying for Thenx again when I had already made my OWN workout program months prior that works just as well.  And, all of the exercises and progressions I put into my own workout plan I found for free just by digging around online.  If you can create your own structure in your workout plans, then Thenx is a waste.
Age and Gender Bias. The program is very (young) manly-oriented, and I could "feel" the bro-ness of it all as I worked through the website and app.  Demonstrations are done by young, fit men.  I don't think Thenx is a good program for people 30 or over.  At this point in my life, I know my muscle development has slowed down and that I won't see results like I would have in my 20's or teens.  I don't have the time or energy for this level of intensity, and have found much better guides for technique progressions for people my age through other outlets.

Thenx Review:  Overall
The best thing that Thenx can do for you is provide structure for a fair price.  The demonstrations help you understand the motions for exercises, and the program itself has a smooth and easy-to-navigate UI.  The amount of content seems limitless, and is only growing more every day.  For anyone who doesn't want to develop their own routine, Thenx is a great investment.  Otherwise, I do not see it being worth it – everything you see with your membership can be learned about for free on your own, and then implemented into your own calisthenics regimens.  Furthermore, the program expects a LOT of time and energy, and you may find yourself extremely tired and missing out on progress.
I hope this Thenx Review helps you understand whether or not it is a good program for you.  If you want exhausting to a lighter degree, I suggest Onlykinds Fitness or the Bar Brothers programs – they are both intense but far less demanding (and less expensive).
Are you a member of Thenx?  What has your experience been with it?  I am interested in any progress you have made with this program, so leave me a comment below!
And as always, remember to stretch!
Thenx Review Score:  3 out of 5