Affiliate Disclaimer:

This post may contain affiliate links, which means I make a small commission off purchases, at no extra cost to you. Read my full disclosure here.
Health & Safety Disclaimer

: This post may contain workout and health advice and information, designed for entertainment and/or educational purposes.  Without delay, always consult your doctor before trying out a new fitness regimen. Bodyweight MAX should not be used as a  substitute for professional medical services.
Onlykinds Fitness Review
Program:  Bodyweight Beast (Bodyweight Beast 2.0 now available!)
Creator:  Onlykinds Fitness (Lucas Ball)
Length: 12 Weeks
Required Equipment:  Pull-Up Bar
Suggested Equipment: Dip/Parallel Bars
Price: $29.95 on the Onlykinds website

I hope that more calisthenics newbies check out Onlykinds fitness, and maybe this Onlykinds Fitness review will help with that.  They are a small and extremely underrated unit of a true calisthenics expert: Lucas Ball.  Not only does he know his stuff and walk the walk, he does something that I really wish was more common among online fitness professionals:  he doesn't take himself (or anything) too seriously.  His videos are always informative and helpful, but what makes them stand out so much is that he has a very quirky wit and isn't afraid to make fun of his own "bro-ness."  It's really refreshing to watch his videos after sifting through all the annoying clickbait BS like "This is the BEST exercise for your biceps (DO IT EVERY DAY)."  Ugh.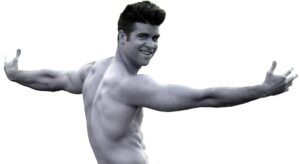 I went through the Onlykinds "Bodyweight Beast" program when I was first getting started with calisthenics fitness, and it was tough!  I certainly noticed improvements in my strength by the end though, and the physical differences were noticeable too.  I strongly recommend the Bodyweight Beast program to people who have been doing calisthenics for a little while, but are struggling to find something new and fun to keep themselves improving.  Even better, Onlykinds just released Bodyweight Beast 2.0, which has a ton of enhancements over the original!  It is a replacement, and not a "next step," so don't worry about missing anything.
What Is It?
Bodyweight Beast 2.0 is a 12-week fitness program in .pdf form that deserves way more attention than it gets.  Every week consists of either 3 or 4 days of workouts, and believe me, they are long and intense enough that you'll be grateful for all those rest days!  Expect a normal workout to last at least an hour.  There are three phases, each lasting four weeks.
It is important to note that every workout consists of a ten-minute warm-up, and sometimes an additional bodyweight exercise to cap off the warm-up.  You'll be winded early on, and it never lets up!  Typically, the weeks are split up into upper-body, lower-body, and full body workouts.  There aren't really days that are specific to certain muscle groups, which really helps reduce fatigue since every workout has so many change-ups in the exercises.
The design of the program is straightforward front to back, which is great.  One workout session per page.  You know what you're getting into with each new day.  Expect the number of sets to increase once you're deep in the program.  It does NOT get any easier as you go along.

Pros:
Excellent for lower-to-intermediate skill levels.  I don't really recommend Bodyweight Beast 2.0 for those who are brand new to calisthenics, but it is perfect for anyone with at least six months under their belt.  It starts off simple, and gets much more intense by the halfway point.
Simple design.  The program is in a .pdf file that you get immediately upon purchasing.  Each workout page is a simple, grid-based design.  Printing out the workout pages is basically a requirement because you need to track your progress in the blank squares next to each exercise.  It's a hefty .pdf, so don't print out every page–just the workout pages.
Slow progression for tough exercises.  By the end of the 12 weeks, you definitely are stronger and can not only do more reps, but you also should be closer to pulling off some (or all) of the advanced moves that are introduced in Phase III.  These include: levers, L-sits, pistol squats, tucked planches, and handstands.  The "2.0" version of this program has improved these progressions immensely, and achieving the advanced moves are more realistic.
Lays a foundation for your own program.  This program is what inspired me to create my own workout plan, due in large part to its grid-like structure and straightforward progressions, but also because it simply gave me the strength and confidence to challenge myself on my own terms.
Demonstrations for the exercises.  The original Bodyweight Beast made you go to the Onlykinds YouTube channel to view the exercises and stretches.  It was kind of annoying, TBH.  "2.0" the creator has added images of the moves so that you don't have to open a web browser mid-workout.  Good call, Mr. Ball!

2.0 has a ton of improvements but maintains the simple design.

Cardio and Stretching!  The warm-ups are ten minutes of cardio to get the heart rate up.  This is so important for both your mind and body when you start a workout.  I wish more programs emphasized the value of a little bit of cardio.  Furthermore, Onlykinds recognizes how important stretching is.  Again, why don't other programs value stretching?  It's not just about preventing injuries, but calisthenics in particular requires great flexibility, and stretching plays a huge part in that.  Don't ignore the cardio and stretching sections in this program!  They will help you more than you know.
Inexpensive.  $30 bucks for a detailed, easy-to-follow 12-week calisthenics program?  That's an amazing deal!  Hell, once you finish, add a weighted vest and do it again for more challenge!
Cons:
Advanced exercises still may take more than 12 weeks.  The progressions are great.  Tucked L-sits, assisted pistol squats, wall handstands, etc.  But many fitness experts don't realize that most of us "normies" don't have lives that revolve around fitness, and get on with our regular days after finishing a workout.  That said, it is expecting a LOT for most people to be able to achieve the advanced moves after just 12 weeks.  For me, 12 weeks wasn't enough to get even close to doing a handstand, lever or tucked planche.  I partly blame my lanky stature (6'1″ and lean), but it's been a long time since I've done Bodyweight Beast and I'm still working on all those.  I will say that I did achieve VERY shaky pistol squats and L-sits by the end, which is certainly a great accomplishment.
Online presence is confusing.  Onlykinds has a very extensive YouTube channel, but they haven't seemed to update it in a while.  Lucas Ball himself, despite his on-screen charisma, is a bit of an enigma to me.  He's Onlykinds Fitness, sure, but he's also Pigmie and, apparently, B-Boy?  Not sure what the differences are, but there are multiple social media sites with different names and terms that Lucas Ball has.  It's kind of confusing to me, but maybe I'm overthinking it.
My hopes with this Onlykinds Fitness review are twofold:  1.  More people need to pay attention to him.  2.  Please keep updating, Lucas!  Thank you for your inspiring and hilarious videos.
The Onlykinds Bodyweight Beast 2.0 program is an excellent way to improve your calisthenics strength and skills over a 12-week period.  Its simple layout and slow-but-steady progression work wonders for getting stronger, reaching goals, and setting yourself up for even greater calisthenics accomplishments in the future.  I don't remember how I found Onlykinds Fitness, but I am so glad that I did.  If you are up to the challenge of these intense workouts, $30 bucks is a steal for this amazing program!
My score: 5 out of 5
If you are interested in other great calisthenics programs, check out my Bar Brothers review.