Affiliate Disclaimer:

This post may contain affiliate links, which means I make a small commission off purchases, at no extra cost to you. Read my full disclosure here.
Health & Safety Disclaimer

: This post may contain workout and health advice and information, designed for entertainment and/or educational purposes.  Without delay, always consult your doctor before trying out a new fitness regimen. Bodyweight MAX should not be used as a  substitute for professional medical services.
Series 8 Fitness and Calisthenics
Who would've thought that your local Five Below had an entire shelf dedicated to fitness equipment?  I'm never opposed to saving some cash, and when I saw what Series 8 Fitness had to offer at this kitschy chain store, I was pleasantly surprised one moment, and then rolling my eyes the next.  For calisthenics, their selection is surprisingly strong, but there are still some useless items that aren't even worth the low price tag.  (Interestingly, some of their items are sold on Amazon at higher prices…)
Check below to see which Five Below Workout Equipment is worth the low price, and which isn't.
The Good
1. Pushup Bars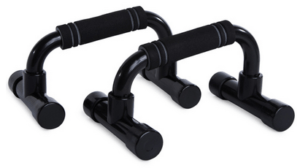 Price: $5 at Five Below
Sturdy, durable, and portable, these pushup bars are, surprisingly, some of the best I've used.  Despite the plastic design, they can withstand regular use and the foam grips last a long time.  The rubber padding on their "feet" may slide on hard floors, so it's best to use these on carpet, fitness floor matting, or a yoga mat.
2. Resistance Tubes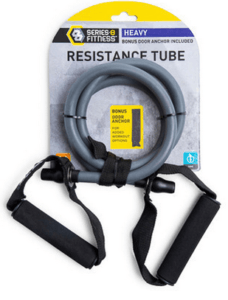 Price:  $5 at Five Below: Medium  |  Heavy  |  Extra-Heavy
The potential for calisthenic workouts with resistance tube (or bands) is astronomical.  You combine your own bodyweight, plus the resistance of the tubes, and it makes your workouts much more challenging.  Pushups, pullups, squats, and more can be intensified with this simple addition.  For $5 a pop, these resistance tubes are definitely worth it compared to more expensive brands.  They are well made and should last you years as long as you're not doing anything crazy with them.  They also come with a door anchor, which opens up a new realm of possible bodyweight exercises.
3. Power Bands

Price:  $5 at Five Below:  Medium  |  Extra Heavy
Depending on your preference, you may want these power bands instead of the resistance tubes.  These lack the handles and are loops, but can function in similar ways for many bodyweight exercises.  They don't stretch as much, which means more resistance for many moves than the tubes.  They are made of strong rubber and shouldn't wear or tear unless you're putting a lot of regular use into them over a long period of time.
4. Adjustable Power Pusher
Price:  $5 at Five Below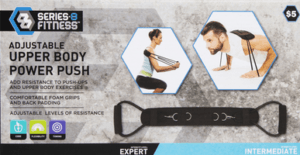 I didn't know these things existed until I saw the Series 8 Fitness version at Five Below.  They are actually a cool concept if you're mainly interested improving your push-ups, although there is potential for other bodyweight moves that don't require a vast range of motion (sit-ups, lunges, etc.).  This item can also be adjusted to increase resistance for greater challenges.
5. Exercise Balls
Price: $5 at Five Below:  55cm  |  65cm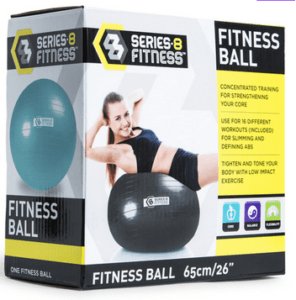 These can be very pricey at other stores, so the fact that Series 8 Fitness has them for just $5 is pretty great.  They are just as strong as any other exercise ball out there.  I have no idea why anyone would buy the same type of exercise ball after seeing them for such low prices at Five Below.
The Bad
1. Fitness Twister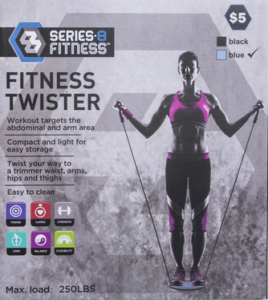 Price:  $5 at Five Below
This is a dumb waste of plastic.  What is that lady even doing?  They already have resistance tubes that can do the same thing, plus much more.  You don't need a plastic plate to stand on.
2. Core Performer
Price: $5 at Five Below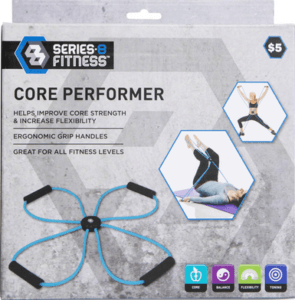 This item isn't in the same league of bad as the Fitness Twister, as there is a lot of room for different moves, but you can most likely achieve the same workouts with just a regular resistance tube.  This item only comes in one level of resistance, too, so that's a pretty big limitation.
3. Covered Resistance Tube
Price:  $4.25 at Five Below
The fabric on this gaudy resistance tube is sure to tear at some point.  Series 8 Fitness has other bands and tubes with varying resistances, so this item is pretty pointless.
4. Neoprene Fitness Gloves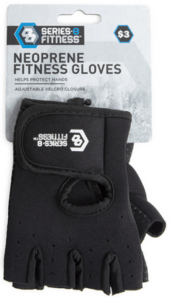 Price:  $3 at Five Below
Wearing fitness gloves when doing pull-ups and chin-ups is usually a good idea, but the low pricetag on this pair is a red flag.  These gloves come in two sizes (small and large).  They are seamed together pretty poorly and start to tear after just a few weeks of regular use.  In this case, you are better off spending more on higher quality gloves.
Conclusion
I hope this list has shed some light on how you can save money on calisthenics equipment that may cost a whole lot more at other stores.  If there is a Five Below store near you, don't hesitate to head over to it and check out its fitness shelf.  There is a lot of inexpensive Five Below workout equipment that can take your bodyweight training to the next level!  Just be sure to avoid the pointless items, because they've got plenty of those, too.
(Note: None of the links to Five Below's online store are affiliate links.)