Affiliate Disclaimer:

This post may contain affiliate links, which means I make a small commission off purchases, at no extra cost to you. Read my full disclosure here.
Health & Safety Disclaimer

: This post may contain workout and health advice and information, designed for entertainment and/or educational purposes.  Without delay, always consult your doctor before trying out a new fitness regimen. Bodyweight MAX should not be used as a  substitute for professional medical services.

Hyfit Gear REVIEW
If you are looking for a creative and challenging new way to step up your fitness training (bodyweight or otherwise), then check out my Hyfit Gear review to learn about one of the market's coolest new fitness products.  The exercise knowledge put into the Hyfit Gear1 system blows my mind in more ways than I imagined.  Gear 1 is both a fitness product AND a service – you receive the gear, and access to its tech- and science-based app when you buy it.  No matter what fitness level you are, or if you are interested in both calisthenics AND resistance training, then I strongly suggest considering a membership with Hyfit.
Honestly, I have been having some trouble deciding how to categorize my Hyfit Gear review.  Is it a product review, or a program review?  In the end, I've decided to include it in both categories.  Sometimes I lose out to my indecisiveness.  🙂
Hyfit Gear Specs:
Equipment Type:  Resistance Band
Includes: Bands, handles, anchors, travel bag, charger, sensor chip, Gear1 phone app
Warranty:  1 year
Gear1 System:
Length:  Varies (one-year and two-year membership options)
Required Equipment:  Hyfit bands and accessories, Bluetooth-enable smartphone with internet
Cost: $15/mo or $199 for a 2-year membership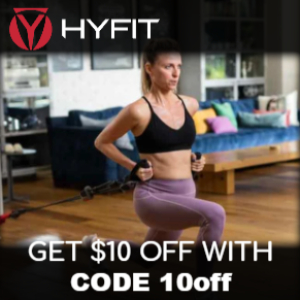 Hyfit Gear Review: Who Is It For?
Hyfit's Gear1 program is designed for all fitness levels, so if you are beginner or more advanced you will be able to find a challenging and fun way to improve yourself.  Moreover, Gear1 can be used for weight loss, strength, flexibility, agility, stamina, cardio, HIIT, and more.  While this program has workouts specified for each of those categories, the fact of the matter is that there will be lots of overlap no matter what you're looking for out of your workouts.  Gear1 also has personal training, which is very helpful in motivating you and keeping you on track.

Hyfit Gear Review:  What Makes It So Unique?
Despite being relatively new, Hyfit's Gear1 is an extremely forward-thinking in its approach to getting people into better shape.  The gear itself has electronic sensors that track over 25 stats while you work out, including reps, calories burned, length of workout, and level of resistance.  The gear's Bluetooth connection automatically sends everything to your phone.  That said, all of your progress is tracked for you, so you don't need to track it yourself.  This is such an amazing concept that I am surprised other fitness organizations haven't been jumping on this train.  Hyfit Gear is way ahead of the game in this regard.
So I guess you could just use the resistance bands and do your own thing with them, but the Gear1 program adds a whole new level to your training that it would be a waste not to use everything it offers.  It is also great that the gear has everything you need to ensure you can do all the workouts available – the anchors and the extra resistance sliders on the bands are critical for those who are more advanced.

Hyfit Gear Review:  A Closer Look
Pros:
Great for all fitness levels and goals. If you want to lose weight and have just begun your fitness journey, Hyfit is a great choice.  If you want to build strength, it can do that, too, and everything in between.
A fair price.  Realistically, this program/product, if used with dedication, will save you loads of money on a gym membership.
Loads of workouts and training options.  There are over 500 moves that you can do with this product, and they are all included and demonstrated in the app.
Great calisthenic exercises.  Of course I have to mention this, since it's the focus of my website.  What makes these calisthenic exercises better with Gear1 is the fact that everything is tracked – reps, timing, force, and more.
Extremely simple to boot up.  All you have to do is connect the app to the bands, select which workout you want to do, and start exercising.
Real-time progress tracking.  Every single move is tracked as you work out.  It gets put into the app, and then allows you to work harder to improve with your next workout.  This is probably the single coolest thing about Hyfit, and I wonder how many fitness programs will try to follow suit once it catches on.
All muscles are targeted.  One thing people have trouble with when they first start using bands is learning how to hit all muscle groups.  The Gear1 system is so great because its personal training system and the workouts included can hit all muscles.  Focus on single muscle groups day by day, or go full-body.  It's up to you, and Gear1 has it.
Generous warranty.  Since the monthly payment plan is for one year, the fact that you also get a one-year warranty shows how confident Hyfit is in the effectiveness of their product and program.
Adjustable resistance.  This was my biggest concern when I first learned about Hygear Fit, but it was quickly addressed.  All you need to do is slide the thingamabobs on the bands to increase the resistance.  Great for strength training and hypertrophy!
Lightweight & easy to travel with.  Take Hygear Fit on the go, or keep it in the corner of your home gym area.  It comes with a bag, although you can simple shove it into a suitcase and be fine.
Sturdy & tough.  Don't worry about stretching Hygear Fit to its limits.  It is constructed to endure intense workouts, including explosive workouts.  The electronic sensor is secure inside of the handles, as well.
New, and improving.  Hygear is a young company.  But, you can tell they have confidence in their product and program, and what is available now is only the beginning.  Expect new workouts and features to be added as time goes by!
App is quick and reliable.  You shouldn't encounter any problems when you first boot up the app, and then it connects quickly every time you use it after.  The Bluetooth connection is handy, and the app itself is simple to navigate with a great user-interface.  If you are having problems, customer service is helpful.
Cons:
Website needs a little work.  It takes some time to learn about Hygear Fit on its website.  There is just a main page, the purchase page, and a review page.  It has a ton of information, but a simplified presentation would have helped.
App is limited to your phone.  I believe there are plans to develop an option to cast it to a larger screen, which is great.  But for now, the app is stuck on your phone's tiny screen, which is a minor annoyance.  Also, it will drain your battery, so have a charger handy.
Limited calisthenic skill progression training.  Obviously, any kind of resistance band cannot serve as a substitute for, say, a pullup bar where you can do a lever, muscle-up, skin-the-cat, etc.  Hygear Fit CAN help you build strength and make progress to make these moves easier, but you will eventually have to use an actual bar to do the moves themselves.
Wait, what's it called again? Hyfit? Hygear? Hyfit Gear? Hygear Fit?  Not a big deal, but it's kind of confusing.
Hygear Fit Review:  OVERALL
Hygear Fit is so ahead of the game right now, and thus deserves to get more attention for this innovative yet simple new program.  Expect it to only get better with time.  As it is now though, I am incredibly impressed by Hygear Fit and the Gear1 system.  And as Bodyweight MAX is dedicated to calisthenics training, it is great to see so many cool calisthenics exercises included with the Hygear Fit membership.  I hope my Hygear Fit review has helped you understand it a little better.  And during those intense Gear1 workouts, remember to stretch!
Hygear Fit REVIEW:  My Score – 5 out of 5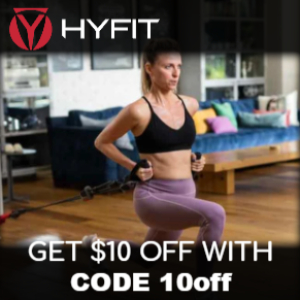 Do you have a membership with Hygear Fit?  How have your results been since starting it, and how is your experience with the app?  Let me know in the comments below!  And while you're here, check out my reviews for other great bodyweight fitness programs and equipment.