Affiliate Disclaimer:

This post may contain affiliate links, which means I make a small commission off purchases, at no extra cost to you. Read my full disclosure here.
Health & Safety Disclaimer

: This post may contain workout and health advice and information, designed for entertainment and/or educational purposes.  Without delay, always consult your doctor before trying out a new fitness regimen. Bodyweight MAX should not be used as a  substitute for professional medical services.

Rapid Primal Fitness REVIEW
With a rise to fame thanks to their skills with parkour, the Tapp Brothers have become well known among online calisthenics communities for their easy to follow videos on Youtube.  They have a reputation for being great at what they do, but their calmer natures and less in-your-face approach have been helpful to those who are newer to calisthenics and exercise in general.  Most recently they have upgraded Rapid Primal Fitness, which covers a wide breadth of health and fitness objectives.  It is a solid program for beginners of all ages, and if you aren't new to calisthenics you will still learn some cool new techniques.  It's all in the name – Rapid Primal Fitness.  The Tapp Brothers aim for this program to teach you unusual "primal" movements that remind you of Tarzan crawling through the jungle.  It is unique and not for everyone, but you can't deny that some of these skills are very impressive once you're able to pull them off.
For better or worse, they have recently peppered Youtube with long infomercials to promote their website and new programs, including Rapid Primal Fitness.  I just have to put this out there, because they are very annoying and do the Tapp Brothers no favors in making themselves look good – although I'm sure they have been seeing their profits shoot up exponentially.
But the fact of the matter is that this is a solid program that is reasonably priced, and I would recommend it to anybody who lacks the structure of a bodyweight training routine and wants quick, regulated, "outside the box" workouts spoon-fed to them.
Program:  Rapid Primal Fitness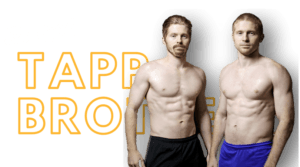 Creator: The Tapp Brothers
Length: Varies, but advertised as 30 days
Required Equipment:  None really…
Suggested Equipment: Pull-Up Bar, Dip/Parallel Bars or Parrallettes, Yoga Mat
Rapid Primal Fitness Review:
Rapid Primal Fitness, or RPF, is a bodyweight fitness program that is unlocked upon a purchase of a membership from the Tapp Brothers' website.  Beginners will benefit from the "bonus" Primal Movement program, as well – you don't have to have it (and may not need it) but it's free, so why not?  The membership is $97, but keep in mind it goes on sale a lot.  Once you pay, your login information opens up a huge array of workout sessions, nutrition guides, schedules, and other helpful routines to better yourself, such as meditation and flexibility training.  It is daunting at first, but baby steps are important.

The daunting nature of RPF is alleviated a lot because of the 60-day money-back guarantee.  I definitely recommend you keep this in the back of your mind when you make the purchase.  Your goal with RPF or any similar new program is to create a routine and develop healthy habits.  RPB makes this very clear from the get-go.  I also have to say this program (and its generous refund policy) is good for beginners because the workouts can be as short as 15 minutes, which is not intrusive at all.  I know $97 seems expensive, but there is a lot of content.
Pros:
Organized Workout Schedule.  One of the main reasons beginners love RPF so much is because it is so organized with your training regimen.
Tons of Content.  It is impossible to describe everything RPF offers in one review, but rest assured it includes a LOT – extremely basic beginner training, advanced moves, equipment-free workouts, nutrition advice, meditations, motivations, strength, cardio, flexibility, martial arts, and other stuff I can't remember.
Simple Interface.  The Tapp Brothers have a clean website and mobile app that is easy to navigate and find what you need in seconds.
Results!  Some of these moves are unusual and will feel extremely foreign at first.  Your body isn't used to performing them yet.  However, if you stick with the program you will get better at them and eventually they will even feel more natural to you.
Equipment Is Not Required.  The RPF program finds unique ways to do many bodyweight exercises without any actual equipment – unusual "hacks" to do pushups, dips and even pull ups without bars.  The entire program is possible at home (or *cough* while at work).

Check out their Youtube to understand the Tapp Brothers' methods.

Short Sessions. This is really big for many of us, because we have busy schedules and don't have enough time for full-on workouts that last over an hour.  A standard RPF can last just short of 30 minutes, but of course the amount of time you devote to a workout is up to you.
Follow-Along Demonstrations. Although their Youtube channel has plenty of follow-along content, you get it for everything you need once you're actually a member.  You will know how to perform moves with proper form and timing with these demonstrations.
Extremely Unique Skills Will Be Learned.  Sure, you will learn how to progress to a handstand, but there are some very unusual calisthenic moves you'll learn in addition to the more standard one.  The "primal" movements are worked up to with progressions.  You can definitely sense the parkour origins of the Tapp Brothers' methods.
A Fair Price & Refund Policy.  It's just shy of $100 for a lot of content.  For the committed beginner, you will definitely get your money's worth.  If you aren't satisfied or haven't been using it within two months then you can get a refund, too.
Age and Gender Friendly.  It doesn't matter how old you are or what your gender is, there is a good starting point for everybody and the results will happen if you put in the work.
Cons:
Lots of This Is Already Online, Free of Charge.  Sure, you'd have to do a lot of digging to cover everything, but you will eventually be able to find all of this stuff on Youtube or other fitness websites.
The Ads…  I gotta mention the annoying Youtube ads again.  Seriously, they are long and annoying and take forever to get to the point.  It puts a sour taste in my mouth with the bros' whole image.
The Weird Movements Aren't for Everyone.  The crawling, animal-like movements are admittedly a little odd looking at first.  Their benefits are great, but I understand if people prefer the more standard programs like Bar Brothers or Onlykinds.
Overall:
A great program for beginners that should last beyond its advertised 30 days, Rapid Primal Fitness is a solid investment that gives you short bursts of effective and unique workouts that can be done without any equipment whatsoever.  My opinion of the Tapp Brothers has been just a teensy bit tainted with their Youtube ads, but the point remains that RPF is a massive and effective program worth the investment.
I hope my Rapid Primal Fitness review has been helpful as you consider the many options out there for calisthenics programs.  Are you already a member of Rapid Primal Fitness?  What has your experience been with it?  Let me know in the comments below.  And remember to stretch!
Have you used RPF before?  Let me know how your experience has been.  And while you're here, be sure to check out my reviews for other great calisthenic programs, like Alpha Home Workout, Calisthenics Academy, and Ripped With Bodyweight!
OVERALL:  4 out of 5