Affiliate Disclaimer:

This post may contain affiliate links, which means I make a small commission off purchases, at no extra cost to you. Read my full disclosure here.
Health & Safety Disclaimer

: This post may contain workout and health advice and information, designed for entertainment and/or educational purposes.  Without delay, always consult your doctor before trying out a new fitness regimen. Bodyweight MAX should not be used as a  substitute for professional medical services.
Ripped With Bodyweight REVIEW
If you are interested in a beginner, intermediate or advanced bodyweight training program, then you may want to check out my Ripped With Bodyweight review.  Ripped With Bodyweight is a simple and effective calisthenic training program that gives you a lot of information and advice to maximize your strength and muscle growth, with a focus on physical appearance.  There are a lot of calisthenic training programs out there vying for our attention, so hopefully after reading my Ripped With Bodyweight review you will have a better understanding of what type of program is well suited for you.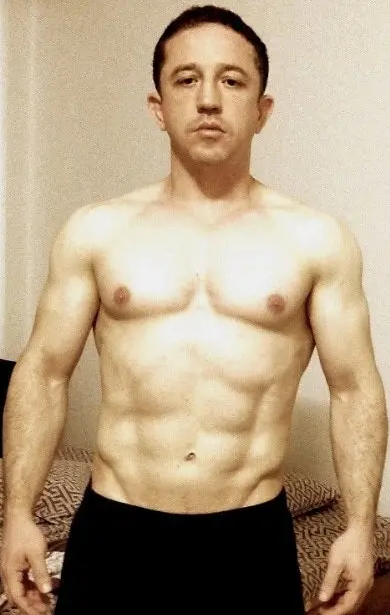 Program:  Ripped With Bodyweight
Creator:  Lane Goodwin
Length: 12 weeks (or more)
Required Equipment:  Pull-Up Bar
Purchase Ripped With Bodyweight Here
Ripped With Bodyweight Review – What Is It?
Created by Lane Goodwin, Ripped With Bodyweight is a calisthenic workout program that can be done at home, as long as you have a pullup bar.  It is a 12-week program, housed in an 116-page ebook, that claims to provide you with an aesthetically appealing physique, including 6-pack abs, achieved from consistent yet minimal time spent working out.  And although I say this is a 12-week program, there are actually three separate 12-week programs provided for you once you make the purchase:  beginner, intermediate and advanced.  So theoretically, this could be a 36-week program if you want to start at the very beginning.
Ripped With Bodyweight is focused on your LOOKS, and not as much on skill progressions.  The main draw of Ripped With Bodyweight, according to Lane Goodwin, is that you will be better looking.  I'm not sure this is the best reason to begin calisthenic training, but if it's your primary concern, then you may be interested in this program.  Whether you just want to look better or achieve other fitness goals, Ripped With Bodyweight is still a good contender because it simply will get you in much better shape if you stick with it.
Pros:
Focuses on the basics.  I think it's great that Mr. Goodwin's program sticks with eight tried and true bodyweight workouts, and nothing else.  Pullups, pushups, squats, and more will be covered over and over again in Ripped With Bodyweight.  No progressions to harder variations are covered.
Immediate access.  Once you buy the program, you get the ebook sent to you immediately.  You can start the program the moment you buy it.
All you need is a pullup bar.  Other than that, this entire program is designed to be done without any equipment.  It can all be done at home, if you want.
Not a huge time commitment.  You work out four days per week, each session lasting no more than 45 minutes.  As you get better in this program, your time commitment may get even lower.
Three 12-week programs based on fitness level.  It is great that Ripped With Bodyweight includes three whole programs, which makes it a good program for absolute beginners.
No-frills.  Once you have the program, you don't have to click back and forth between follow-along videos, explanations, photos, etc.  It's all in the book.
Great for those who want to look more aesthetically pleasing.  The main goal of Ripped With Bodyweight is to look better.  Actual strength, skill performance, ability, endurance, etc. are not the focus here, although they will occur naturally.  If you simply want to look good, then this is a good program for you.
Diet plan is included.  You should absolutely follow the diet plan included if you want to achieve the results that the program promises you.  It is an essential aspect to the program, and will help you get the physique you want, including fat burning to tone your ab muscles.
Advice on plateaus.  If you feel like you aren't progressing during the program, the ebook includes tips on progressive overload to push yourself further so you can continue moving forward with your plan.
Inexpensive.  This program is only $20 as of this writing.  It is also nice that it has a generous refund policy of 60-days.
Strong online presence.  I appreciate Lane Goodwin's consistently updated website.  It goes beyond just fitness, so if you're interested I suggest checking it out.  It's not exactly the friendliest or most open-minded blog, but at least you know he's always working.
Cons:
Photo tutorials may not be enough for beginners.  While I love the simplicity of the program, I already know proper form for all eight exercise types that Ripped With Bodyweight instructs you on.  Beginners may take a bit longer to understand the proper way to perform the various exercises.
Bros. If you know me, then you know how important a universal approach is to me with workout programs.  This one is targeted specifically to men who want to look sexy to women.  It's… a dumb marketing tactic, if you ask me.  Mr. Goodwin would reach a much greater audience if he took off his bro-cap when advertising this program.
No-frills… again.  I appreciate the no-frills, but quite frankly, so many of the calisthenic programs that I've reviewed offer free bonuses.  That might give them the edge over Ripped With Bodyweight, when all is said and done.
Eight simple exercises may not be enough.  It's cool that Mr. Goodwin isn't interested in skills like pistol squats, but some people are.  If you are one of those people, Ripped With Bodyweight probably won't do it for you.
Creator isn't "official."  Mr. Goodwin is pretty open about the fact that he has no fitness certifications or licenses.  He was just a guy who wanted to look good, made a plan for himself, and now has put it out on the world wide web for anyone else who is interested.  This may turn some people off, but it really shouldn't, since the program DOES work if you stick with it.
Ripped With Bodyweight Review:  Conclusion
I have reviewed a lot of better programs than Ripped With Bodyweight, but the fact of the matter is that it IS a strong program, especially for those who are more interested in their physical appearance than anything else.  Obviously, after reading this Ripped With Bodyweight review, you can probably tell it's not my favorite program.  Still, if you want to burn fat and have a better looking physique, Ripped With Bodyweight should do the trick for you, as long as you stick with it and follow its diet progam.  And as always, remember to stretch!
My Score:  3.5 out of 5
Have you been using Ripped With Bodyweight?  How has your progress been coming along?  Let me know in the comments below!  And for other program reviews, click here.