Affiliate Disclaimer:

This post may contain affiliate links, which means I make a small commission off purchases, at no extra cost to you. Read my full disclosure here.
Health & Safety Disclaimer

: This post may contain workout and health advice and information, designed for entertainment and/or educational purposes.  Without delay, always consult your doctor before trying out a new fitness regimen. Bodyweight MAX should not be used as a  substitute for professional medical services.
What is Wii Fit U?  If I have any single program to credit for getting me back into fitness in the first place, it is Wii Fit U.  A massive upgrade over Wii Fit and Wii Fit Plus, Wii Fit U is an excellent way for beginners to get into fitness.  From a calisthenics standpoint, Wii Fit U is also a great starting point, since so many of its exercises only require you to use your bodyweight as resistance.  But beginner or otherwise, before you dive into Wii Fit U, you need to ask yourself this: what are my fitness goals, and what is Wii Fit U going to do to help me achieve them?  Read on to find out.
Program:  Wii Fit U
Creator:  Nintendo
Length: Determined by User
Required Equipment:  Wii Balance Board (included), Wii U Gamepad
Suggested Equipment: Wii Remote, Nunchuck, and Wii Motion Plus
What Is Wii Fit U?
Wii Fit U is a hybrid of a workout program and a videogame that is exclusively available on the Nintendo's redheaded stepchild, the Wii U.  It includes 70+ various workout types that range from yoga to dance to bodyweight training, and they are all ranked in terms of difficulty.  It tracks your progress as you continue the program, allows you to set your own goals, and can measure your weight and BMI as well.  Exercises range from extremely easy to very challenging.  Most of the exercises rely on using the Balance Board, but others need the Wii Remotes, and a few need no equipment.  There are many other features as well, including body tests, a step counter, and the option to design your own routines.  The program has separated its numerous exercises into the following categories:
Strength Training
Yoga
Aerobics
Dance
Balance Games
Although its appearance makes it look like its geared towards beginners, Wii Fit U can also get some use out of more intermediate calisthenics trainers, although there is no denying its limitations.  There is a lot to take in when you first start Wii Fit U, but the truth is that a great deal of it can and will eventually be completely ignored.  The most important thing to know about what Wii Fit U is able to achieve for all its users lies in its workouts.
Pros: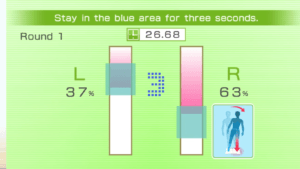 A Personal Profile.  When you first start Wii Fit U, you will be measured and tested for basic attributes, including height, weight and age.  It will also evaluate your balance, BMI and posture.  After that, you set goals for yourself.  This is a good way to ease into the program.
The Balance Board.  It is more accurate than you'd expect, and forces you to focus on form.  Every exercise concludes with a rating, which is great motivation to improve for next time.
The Wii Fit Trainer.  To further improve your form, your trainer always has perfect form with their workouts, plus there is a camera on the Wii U Gamepad that shows you how you're doing.  Your goal is to mirror the trainer's form as best you can.
Great Variety for Calisthenics.  Since bodyweight training is my favorite way to work out, I have to judge Wii Fit U as such.  Primarily thanks to the Balance Board, there is a healthy amount of strength training and yoga that fits under the calisthenics umbrella.  Moves like the jackknife, push-up to side-plank, lunges, and others are excellent for calisthenics training, especially for beginners.
You Can Build Your Own Routines.  There are options to select single exercises from menus and even pre-set workouts, but the best part of Wii Fit U is the option to make your own routines.  Having your own routines increases your motivation and expertise with your workouts.  It also prevents boredom and plateaus.
Regular Goal Check-Ins.  The animated Balance Board onscreen will let you know how you're progressing towards your goals, and there are other ways that Wii Fit U holds you accountable for your fitness.
Targets a Variety of Fitness Goals.  What is Wii Fit U good for if it won't let you work towards the very goals you set?  It certainly will help you focus on what you want out of your workouts: strength and muscle building, weight loss, improved balance and posture, and more.

The Wii Fit Trainer explains exactly how to do each workout.

Overall Excellent for Beginners.  The ability to start light and end completely drenched in sweat is proof that Wii Fit U can give EVERYONE a great workout, but it truly is an exceptional program for beginners more so than higher skill levels.  It is fun, challenging, and inspirational; three traits that are so important. Many other fitness programs out there that can't hit all three of those traits.
Cons:
Overwhelming at First.  The menus in Wii Fit U are not very intuitive, especially at first.  Furthermore, there is just so much thrown at you after that initial body test that it is intimidating to know where to start.
A Pointless Online Feature.  The Wii U isn't exactly popular, and I feel like the online community is an unnecessary part of Wii Fit U.  Instead, they should have put in more workouts.
Occasional Accuracy Issues.  The Balance Board and GamePad are pretty incredible, but there is no denying that they are machines.  Inaccurate measurements aren't always a big deal, but they could mess up your statistics and even deflate your ego in some cases.
Many Workouts Require Expensive Peripherals.  Nintendo equipment isn't cheap, and a good number of exercises require multiple Wii Remotes with the Motion Plus attachment.  Unless you spend the extra dough, you will never do these exercises.
Some Exercises Aren't Useful. From a calisthenics perspective or otherwise, Wii Fit U has many exercises that aren't beneficial.  Moves like the Standing Knee and Torso Twist just seem pointless.

You will eventually figure out where to go to really get started.

Upper Body Workouts Are Lacking.  The true limitations of the Balance Board become apparent when you want to build your upper body beyond just the chest and triceps.  Biceps, shoulders and back muscles aren't hit with Wii Fit U, which is a shame.
Balance Board Surface.  A twofold issue here.  Planks are PAINFUL to do on the Balance Board due to its hard plastic surface.  The other issue is that you will be sweating, which may make the Board slippery.  Just be careful.
"Follow My Lead As We Do This Pose Together."
For beginners especially, I strongly recommend the Wii Fit U program.  It is fun, motivational, and challenging, and will lay an amazing foundation of great things to come with your fitness goals and routines.  It isn't perfect, but it is still a solid way to lay the groundwork to lose weight and build strength.  Intermediate and advanced calisthenic enthusiasts may not get much help from it, but it is still worth trying out for certain great features, like the balance tests and routine builder.  Beginners, it is best to go into this program asking yourself this: what are my fitness goals, and what is Wii Fit U going to do to help me achieve them?  With that mindset (and consistency), you will definitely find success with Wii Fit U.
My Score:  4 out of 5