Affiliate Disclaimer:

This post may contain affiliate links, which means I make a small commission off purchases, at no extra cost to you. Read my full disclosure here.
Health & Safety Disclaimer

: This post may contain workout and health advice and information, designed for entertainment and/or educational purposes.  Without delay, always consult your doctor before trying out a new fitness regimen. Bodyweight MAX should not be used as a  substitute for professional medical services.
Athletic Works Weighted Vest
Equipment Type:  Weighted Vest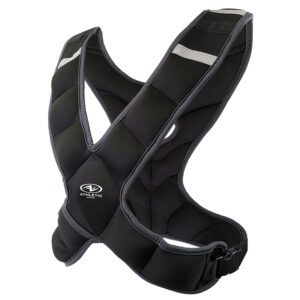 Includes: Reflective bands, adjustable straps, sand weight filling, cell phone pocket
Options:  8lbs.
Athletic Works is a workout gear brand that is exclusive to Walmart.  Their equipment is mostly clothing and other wearable gear, which includes this excellent weighted vest.  If you are ready to bump up your calisthenics training beyond just your bodyweight, I strongly suggest starting off with the Athletic Works Weighted Vest, which weighs in at 8lbs.
Features:
Adjustable Straps:  Two buckles near each hip, plus slightly stretchy material, which helps it fit perfectly.
Reflective Stripes: There are bands of reflective tape to help with visibility if you plan to wear this outside.
Cell Phone Pocket:  A small pocket designed for a phone or water bottle.
Pros:
Comfortable:  This vest is only 8lbs., and is not intrusive at all during workout that involve full range of motion.  The "X" shape and stretchy material makes it very easy to move in all kinds of ways while you wear it.  Even tightening it a lot doesn't affect how much you can move around.
Perfect for Plateaus:  I decided to use this after feeling like I hit a plateau with all my bodyweight workouts.  Although it is only 8lbs., it is a good first step to adding new resistance and challenge to your workouts.
Durable:  The "X" shape really works in this vest's favor here.  There isn't going to be much stretching or wear and tear based on its design alone, but the material is knitted tightly enough to keep all its sand in, too.  It should last a while even with more regular, intense use.
Fast-Drying:  There shouldn't be any odors lingering on this vest even with sweaty workouts, due to its neoprene material.
Cons:
Cell Phone Pocket Is Tiny:  This vest has a pocket that is meant for a phone or possibly a water bottle, but it is SO tiny that even a normal-sized phone or small water bottle might not fit into it.  It kind of seems pointless to even have it there in the first place if it's going to be too small for anything to fit in it.  Maybe an energy bar?
Reflective Tape Is Too Thin:  I don't wear my vests outside, but I know some people do for runs or walks.  The reflective tape isn't very visible compared to other vests, so just keep this in mind if you wear it outside at night.
Is It Worth the Price?
In my opinion, a $20 investment to take that first big step in upgrading your calisthenics workouts is reasonable.  It is only 8lbs., but even that low weight can truly make a difference for anyone who feels like they've plateaued in their bodyweight workouts.  I strongly recommend the Athletic Works Weighted Vest!
My Score:  5 out of 5