Affiliate Disclaimer:

This post may contain affiliate links, which means I make a small commission off purchases, at no extra cost to you. Read my full disclosure here.
Health & Safety Disclaimer

: This post may contain workout and health advice and information, designed for entertainment and/or educational purposes.  Without delay, always consult your doctor before trying out a new fitness regimen. Bodyweight MAX should not be used as a  substitute for professional medical services.
Lifeline Fitness has become a competitive force among the internet's countless fitness equipment sellers.  They promote their gear as being ideal for home workouts, and have an entire category dedicated to bodyweight fitness.  The Lifeline Portable Gym Chin Up Grips are one of the more notable items in this category for many reasons.  They aren't perfect, but there is definitely a lot to like about them as well.  Not only are they compact and can easily fit into a small bag or suitcase, they are surprisingly light and won't add any noticeable weight while you travel with them.  I take mine every time I travel.  Furthermore, because there are two separate grips, the options for variations and ranges of motion are much different from a standard pull up bar.  You will understand why I recommend these chin up grips in more detail by reading my review below.
Lifeline Portable Gym Power Up Chin Up Grips
Equipment Type: Over the Door Pull Up Grips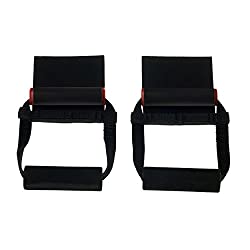 Includes:  Two Grips With Padded Cushions
Features

of the Lifeline Portable Gym Chin Up Grips:
Fits Almost Any Door: Slide the grips over the top of the door and close it to begin using them.
Tiny & Lightweight: They fit easily into any travel bag or suitcase without taking up room or adding weight.
Wrist Cushions: Added to reduce pressure put on wrists and knuckles against the door.
Padded Grips: To reduce slippage while doing pull ups.
Pros

of the Lifeline Portable Gym Chin Up Grips:
Perfect for Travel.  I always take these with me when I travel.  All you need is a room with a door that shuts!
Easy to Hang.  Simply slide them over the door and shut it.  With a quick tug, they will both be perfectly secure.  NOTE: You must hang them so the grips are on the side of the door that pulls towards you.
Super Light and Compact.  I love that I can just throw this into a small pocket of my backpack without worrying about lost space or added weight.  They are really that convenient.
Sturdier Than You'd Expect.  The strength of a 3-hinged door combined with the quality material in the grips makes them safe to use without worrying about them breaking or slipping out of the frame.
Great for Variations.  Want to do a wide-grip pull up?  Simply slide the grips apart.  Close-grip?  Bring them together.  Simple as that.
Lower Price.  Usually under $20, these are an amazing deal for the amount of use you'll get out of them.
Great for Hanging Core Exercise.  Placing your back against the door allows you to do leg lifts, knee raises, hanging L holds, and many other core strength exercises.
Cons

of the Lifeline Portable Gym Chin Up Grips:
Padded Wrist Cushions Aren't Great.  I always get burning and irritation on my knuckles when I use these grips.  The cushions are gentle on your wrists but it's my knuckles that really feel the rubbing and pressure.  I recommend wearing gloves when you use these.
You Need a Secure Door.  Don't risk your safety by using these on a flimsy door, or a door that doesn't completely close.  You absolutely must use these on a strong door that fully closes.
Grips Get Slippery.  My pair came with rubber grips, but I've seen pairs that are only plastic.  Either way, once you start sweating your palms will begin to slip off the grips.  Another reason to wear gloves with these.
Awkward Sliding Against the Door.  As you do pull ups, your entire midsection will be hanging against the door, sliding up and down it with each rep.  It feels weird and takes some getting used to, and definitely takes away some of the stability training needed when doing pull ups with a standard bar.
Not for Heavier Users or Fast Reps.  I suggest using caution if you weigh over 150 pounds, and always do your reps slowly.  There are reports of the grips breaking, which I believe is due to users using them too aggressively.
Are They Worth It?
The lifeline portable gym chin up grips aren't perfect, but they also have a lot to offer.  You can get creative with them with variations and ranges of motion, and the ability to do ab exercises with a solid support against your back is great.  Best of all, they are about as portable as can be, and are a great price.  Still, I recommend using them carefully, because they ARE hanging over a door and may not be able to hold you if you are heavier and/or use them too recklessly.  Overall though, I think these grips are absolutely worth the price for anyone who wants to keep on top of their pull up game while they're away from home.  I definitely recommend them!
Have you used these grips during your travels?  What has your experience been with them?  What do you think of Lifeline Equipment overall?  Let me know in the comments below!  And if you're interested in an amazing over the door pull up bar that you can use at home, check out my review for the Perfect Fitness Multi-Gym Doorway Pull Up Bar.  And remember to stretch!
My Score:  3.5 out of 5