Affiliate Disclaimer:

This post may contain affiliate links, which means I make a small commission off purchases, at no extra cost to you. Read my full disclosure here.
Health & Safety Disclaimer

: This post may contain workout and health advice and information, designed for entertainment and/or educational purposes.  Without delay, always consult your doctor before trying out a new fitness regimen. Bodyweight MAX should not be used as a  substitute for professional medical services.
Weider Power Tower Review
Weider Fitness has quietly become a big player in the home fitness equipment game, and rightfully so.  They have a huge assortment of simple, bare-bones equipment that should last you forever.  As calisthenics trainers, what does Weider offer that we can use?  My first recommendation would be to look into the Weider Power Tower.  Like many other power towers out there, this single tower can be used as an all-in-one workout unit.  But how does it compare to its competition?  Check out my Weider Power Tower Review to learn why I think this is a solid investment for anyone interested in a simple, budget power tower.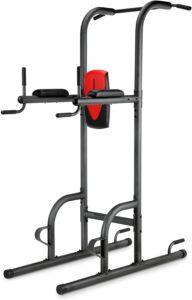 Weider Power Tower
Equipment Type:  Power Tower
Includes: Pull-Up Bar, Dip Bars, Push-Up Handles, Calf Raise Platforms, Leg Lift Station
Features:
Vertical Knee Raise Station: A back cushion and two forearm cushions to hold you up for leg lifts and/or knee raises to exercise your abs.
Multi-Grip Pullup Station: An extended bar so you can do wide-grip pullups or other pullup variations.
Pushup Handles: For a variation of a standard floor push up.
Dip Bars: Attached to the Knee Raise Station for full range of motion dips.
Pros:
Pullup Bar is on its own side of the unit:  Like the Gold's Gym Power Tower, the Weider Power Tower is smartly engineered in that its pull up bar is on the opposite side of the dip station.  Most other PT's have the pullup bar on the same side as the dip station, which greatly limits the potential for variations and range. Here, the pullup bar has its own separate side makes it possible to do a variety of pullup types, including explosive pulls that will involve more swinging.  This also means that your legs are less likely to hit anything as you pull yourself up and down.  Tall people won't hit their heads on the bar when setting up for knee raises or doing dips.
Pretty sturdy.  Unlike the Gold's Gym Power Tower, the Weider Power Tower is actually quite sturdy.  The heavy metal keeps its bars on the floor, so it's easier to do explosive movements without as much wobbling.  It is NOT as sturdy as more expensive power towers, but for the price I am impressed with how stable it stays when I'm swinging and doing explosive exercises.
Durable grips and cushions:  The Weider Power Tower has very strong cushions and grips that won't tear off, even after years of use.
Decent price:  The main reason I recommend this Power Tower is because it is much less expensive than most of the competition, which makes it a low-risk investment for newcomers to calisthenics.
Good for tall people: The pullup bar hits the 7ft. mark, so tall people won't have to bend their knees AS much as they would with other power towers.
Cons:
Assembly may present problems: Although I didn't experience this, there are many complaints out there about problems with assembling the Weider Power Tower.  These include missing parts, the metal rods denting from the screws, and lopsidedness once assembly is completed.  You can order "expert assembly" for an additional charge if you want, but it's pretty expensive.
The grips get slippery quickly: It is best to wrap a towel around the pullup bar, or use chalk on your hands, because your sweaty palms will easily slip right off of it.  It's great that the rubber grip is durable, but you will need to be careful if you don't have a towel or chalk because it can get slippery with just your hands.  You can also wear workout gloves.
Customer service is iffy.  Available by phone or email, it is hard to get in touch with Weider's customer service through either method.  They may not be available by phone at the time you call, and emails often go unanswered.  If you have a problem with your tower or need a refund, you may need some patience to get what you need.
A Solid Budget Power Tower
If you are looking for a power tower for a much lower price than the competition, then the Weider Power Tower is a great choice.  It is one of the cheapest available, and is much sturdier than you'd expect.  On top of that, it should last a long time before any wear and tear becomes visible.  I hope my Weider Power Tower Review has helped you in your power tower search.  I strongly recommend it for anyone on a budget who wants to get a great bodyweight workout at home.
Do you have the Weider Power Tower?  How has it helped your calisthenics journey?  Leave a comment below!  And if you're only looking for a solid over-the-door pull up bar, check out my guide for these great little pieces of equipment here.  And remember to stretch!

Weider Power Tower Review:  4 out of 5