Affiliate Disclaimer:

This post may contain affiliate links, which means I make a small commission off purchases, at no extra cost to you. Read my full disclosure here.
Health & Safety Disclaimer

: This post may contain workout and health advice and information, designed for entertainment and/or educational purposes.  Without delay, always consult your doctor before trying out a new fitness regimen. Bodyweight MAX should not be used as a  substitute for professional medical services.
Relife Rebuild Your Life (yes, that is the name of the brand) has a smaller but highly reputable store on Amazon that sells great fitness equipment for both calisthenics and weight training.  They are particularly good at what they do because their equipment is reliable, simple, and inexpensive when compared to the competition.  Further, a lot of their equipment can be adjusted to help with people's different sizes, along with helping with storage.  For calisthenics, I strongly recommend Relife's Power Tower.  Read my Relife Rebuild Your Life Power Tower review below to understand why this modest power tower is much more than meets the eye.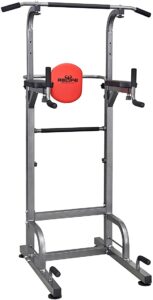 Equipment Type:  Power Tower
Includes: Pull-Up Bar, Dip Bars, Push-Up Handles, Leg Stretch Bar, Leg Lift Station
Features:
Adjustable Knee Raise Station: A back cushion and two arm cushions allow you to hold yourself up for leg lifts, knee raises, and variations of these exercises to work out your abs.  You can extend these arms as you need, as well as the height of the entire station.
Multi-Grip Adjustable Pullup Bar: An extended bar so you can do wide-grip pullups or other pullup variations.  This bar can be raised or lowered to different heights.
Pushup Handles: Placed on the bottom bars, you can grip these to do a pushup variation.
Adjustable Dip Bars: Attached to the Knee Raise Station for tricep dips, and are also adjustable.
Removable Leg Stretching Bar.  Placed between either vertical pipe, you can use this bar for stretches or  variations of exercises.
Pros:
Comes with all necessary parts and tools.  There is no need to look in your toolbox for a screwdriver or wrench (unless you want to), because this power tower comes shipped with everything you need to put it together.
Assembly is fairly straightforward.  There shouldn't be too much getting in the way of successfully putting this together within two hours.  Other than the back cushion, which can be confusing, assembly is pretty simple.
Very sturdy.  The steel frame is heavier than many other power towers, and thus it is much sturdier than you'd expect.  Even heavier people can do explosive exercises without too much worry, although you should still exercise caution.  I also need to mention the suction cups that go on the bottom help keep it from moving even more if it's set up on hard floor.
Decent price & often on sale:  The Relife Rebuild Your Life Power Tower can be considered a slightly more expensive version of a low-budget tower.  But, it is great that Relife often has sales for this unit on their Amazon store, because it brings the price down lower than even some of the cheapest power towers out there.
Adjustable!: I am about 6-ft. tall, and my partner is about 5'6″.  We can both easily adjust this power tower's pull up bar and leg lift station to match our heights without taking too much time out of our workouts.  Even kids can use it!  The locknuts are amazing because you can easily unscrew them to adjust the tower.  You can even completely remove parts if they are getting in your way, although I haven't felt the need to do this.
The Leg "Press" Bar is a cool addition.  Relife promotes this simple bar as being good for stretching your legs, but I also am able to use it for bodyrow pulls, incline push ups, and a few other moves!
Strong customer service.  Decent warranties for the main unit and its parts, and a reliable email service that connects you directly to the customer service line and usually responds pretty quickly.
Cons:
Wide grips on pull up bar are too small.  I never feel like I have a secure enough hold when I'm doing wide grip pull ups on this tower.  The grips are shorter than I'd like.
Foam grips don't feel durable.  There is no wear or tear on them yet, but they feel a little too thin and not as strong as other power towers' grips.  It is only a matter of time before they start getting crusty and eroded.
Back cushion feels awkward. The knee raise station is great for being adjustable, but the back cushion feels a little too small and just awkward on my back.  It may not be as bad for shorter people.
Rebuild with Relife
I hope this Relife Rebuild Your Life Power Tower Review has helped you in your power tower search.  The name might be a mouthful, but the unit itself is excellent!  Being adjustable is what really separates it from the rest of the budget power tower competition, but it's also sturdy and well built overall.  That extra bar in the middle offers more than you'd expect, too.
Have you used the Relife Rebuild Your Life Power Tower?  What do you think of it?  Let me know in the comments below.  For an even cheaper power tower, check out my Weider Power Tower Review!  And remember to stretch!
Relife Rebuild Your Life Power Tower Review:  4 out of 5