Affiliate Disclaimer:

This post may contain affiliate links, which means I make a small commission off purchases, at no extra cost to you. Read my full disclosure here.
Health & Safety Disclaimer

: This post may contain workout and health advice and information, designed for entertainment and/or educational purposes.  Without delay, always consult your doctor before trying out a new fitness regimen. Bodyweight MAX should not be used as a  substitute for professional medical services.
Gold's Gym Angled Push Up Handles
Buy on Amazon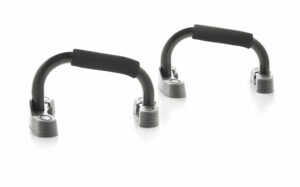 Gold's Gym is renowned for its fitness centers, but a large portion of their profits come from the sales of equipment.  Their Angled Push Up Handles are inexpensive, and can make a satisfactory addition to any calisthenics workout area.  People who do push ups regularly often find themselves plateauing and think that simply adding more reps is enough to increase their strength, but push up handles like these are a fantastic way to target new muscles that you don't work out as much with regular push ups.
The question is, how do these inexpensive push up handles rank with the pricier brands?
Let's find out!
Features:
Angled Grips.  Your hands and wrists will be slightly angled towards your body as you grip the handles.
Foam Handles.  These are meant to ease the heavy pressure you place on your palms.
Anti-Slip "Feet."  Eight main "feet" serve as pressure points to prevent sliding.
Steel Design. This reduces the chance of them bending or breaking.
Pros:
Inexpensive.  On a budget? These push up handles are great for those not ready to take the plunge on the more expensive brands.
Ergonomic handles. The slightly downward angle adds just enough stress on your arms and wrists to give you a different challenge than regular push ups.
Sturdy.  The steel piping of these handles makes them tough enough to handle much more weight than a plastic brand.
Lightweight and compact.  They can go with you if you are traveling without taking up too much room in your suitcase. Otherwise, they can go in the corner of your workout area and not get in anyone's way.
Not just for regular push ups.  You can use them for variations on dips, push ups, and handstands.  Try the "iguana" pushup by using just one handle.
Cons:
"Anti-Slip?"  Yeah, right.  These are BEST used on carpet or a mat.  The "anti-slip feet" are anything but.  Be careful if you buy these and for use on hard floors!
Foam handles are "crummy."  After a good amount of use, don't be surprised if you see tiny black "crumbs" on your hands.  With enough time, these foam handles will deteriorate down to the steel underneath.  They're still usable, but your hands may slip a lot more once that happens.
Plastic screws get loose too easily.  When I use these I usually find myself having to tighten the plastic screws that attach the tubing to the feet.  If you don't do this, the loose screws will make the handles wobble a lot during your reps, which can affect your form and even increase your risk of injury.  Despite the steel tubing being sturdy, the screws loosening can take a lot of that sturdiness away.
Are they worth the price?
The Gold's Gym Angled Push Up Handles are a satisfactory pair of push up handles that perform their function well.  I would recommend them to anyone who is on the fence about the more expensive push up handles and is not ready/willing to spend more.  They are also low risk for those who want to add some new challenge to regular push ups if they are tired of just using their hands.
Do you have your own pair of Gold's Gym Angled Push Up Handles?  How has your experience been with them?  Let us know in the comments below!
My score:  3 out of 5