Affiliate Disclaimer:

This post may contain affiliate links, which means I make a small commission off purchases, at no extra cost to you. Read my full disclosure here.
Health & Safety Disclaimer

: This post may contain workout and health advice and information, designed for entertainment and/or educational purposes.  Without delay, always consult your doctor before trying out a new fitness regimen. Bodyweight MAX should not be used as a  substitute for professional medical services.
Best Bodyweight Workout Routine
If you are looking to take the first steps into calisthenic fitness and aren't sure what the best bodyweight workout routine is for you, I suggest reading this post to help decide.  I have reviewed LOTS of bodyweight workout programs on Bodyweight MAX, and try to be as honest and thorough as possible for my readers.
That said, there is a lot to look into, and I wanted to focus this post on newcomers to calisthenics who want to know which program would best suit their specific needs and capabilities.  Continue reading to learn more!
How I Decided Which Programs to List
This ENTIRE post is dedicated to beginners to calisthenics.  However, each section of this post is further categorized based on the following:
Limited time
Limited equipment
Budget friendly
Skills training
Long-term training
So let's get started.
Best Bodyweight Workout Routine if You Have Limited Time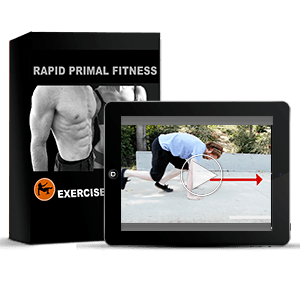 Rapid Primal Fitness
Click HERE for My Review
Click HERE to Purchase
If you have a busy life with a tiny window of time for you to spend working out, then I would suggest Rapid Primal Fitness.  This is an extremely popular program by two brothers who began their fitness professions through parkour.  They eventually moved into some very creative but effective fitness routines that require limited equipment and space, and can be done anywhere.
The main reason I suggest RPF for beginners with limited time is because the program is designed to be extremely flexible.  An RPF workout can be done in under 30 minutes.  Even better is that the workouts can be spread out throughout your day, since you don't need any equipment.  Do a few moves at the office, then do a few moves at home while you watch TV with your kids.  It's an effective program that works great for any schedule.
Another bonus of RPF is that there are different ways to use it – weight loss, muscle growth, skills training.  It is all reasonably priced and is overall an amazing value.
Best Bodyweight Workout Routine for Limited Equipment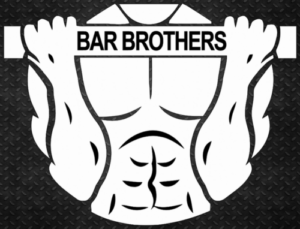 Bar Brothers "The System"
Click HERE for My Review
Click HERE to Purchase
Do you want to build strength and muscle mass with intense workouts without investing a ton of money into equipment?  Then I suggest the Bar Brothers' "System" program, which is how I first started my calisthenics journey.  All you need is a pull up bar.  As you get further into the program, the workouts get much harder.  But the System is an excellent starting point that doesn't require a bunch of space or equipment.  They also give you alternative ways to do certain moves if you lack items like dip bars, so you never feel like you're missing out on anything.
It's also nice that the System is rather inexpensive, and once you make the single purchase, you have access to it forever.
Best Bodyweight Workout Routine – Budget Friendly

Darebee
Click HERE for My Review
Click HERE to Visit Website
Darebee is FREE!  And it is constantly being updated and improved.  The website is simple to navigate and has tons of effective and fun workouts that typically don't require equipment.  It isn't limited to calisthenics, but it definitely has a lot of calisthenic workouts and programs for all fitness levels.  If you are absolutely unsure where to start with calisthenic training, and don't have the disposable income to spend, then you absolutely CANNOT go wrong with Darebee.  I still check out the website now and then myself.
Darebee is a nonprofit, so its creators rely on users to donate to keep the program strong.  If you do end up using Darebee regularly, I suggest making a donation at some point.
Best Bodyweight Workout Routine for Skills Training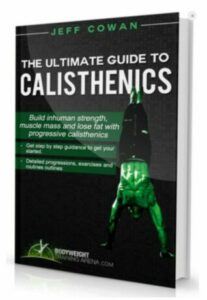 Calisthenics Academy
Click HERE for My Review
Click HERE to Purchase
Calisthenics Academy is an inexpensive but effective program that helps you slowly but surely make great progress in all those cool calisthenic skills, like the one-arm push up.  The book and website is the bulk of the program, but it includes an app that measures and tracks your current fitness level too.  Calisthenics Academy is one of my absolute favorite programs because of its straightforward approach to fitness and how much it has helped me improve.  It is also great because they seem to still be working on improving the program to this day.
And of course, the low price is an amazing bonus.  I can't recommend Calisthenics Academy enough – even if skills training isn't your goal, it still is an amazing program no matter how you look at it!
Best Bodyweight Workout Routine for the Long-Term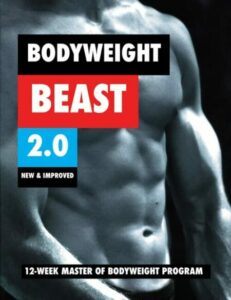 Onlykinds Fitness – Bodyweight Beast
Click HERE for My Review
Click HERE to Purchase
In my opinion, Onlykinds Fitness is one of the absolute best bodyweight workout routines overall.  The creator is entertaining but knowledgeable, and the program starts with a bang.  You definitely feel yourself getting stronger as you get further in, and by the end you truly notice the difference in your strength and in how you look and feel.
The reason I choose Bodyweight Beast for those interested in improving for the long-term is because it essentially lays an entire foundation out for you to keep your calisthenic journey moving forward.  Basically, you can do this program over and over again and continue to improve.  If you choose to do it this way, then you absolutely must add a weighted vest once you finish it the first time, and then do heavier vests with every cycle.  Your strength will skyrocket!
If you choose to only do it once, Bodyweight Beast is nonetheless a fantastic foundation that you will stick with no matter what, even if you create your own regimen.  That was the case for me, anyway.  I was truly inspired by Bodyweight Beast, and my own routine is structured in a similar way all these years later.  Oh, and it's cheap!  So that's cool too.
Conclusion
I hope you now have some direction on the best bodyweight workout routine for you to purchase after reading my post.  It can be overwhelming at first, but the key is to just keep it simple and pick a program that fits into your lifestyle the best.  And no matter what, always remember to stretch!
What do you think the best bodyweight workout routine is, and why?  Let me know in the comments below.