Affiliate Disclaimer:

This post may contain affiliate links, which means I make a small commission off purchases, at no extra cost to you. Read my full disclosure here.
Health & Safety Disclaimer

: This post may contain workout and health advice and information, designed for entertainment and/or educational purposes.  Without delay, always consult your doctor before trying out a new fitness regimen. Bodyweight MAX should not be used as a  substitute for professional medical services.
The Human Trainer Essential Kit Pro – REVIEW
Created by Astone Fitness almost twenty years ago, The Human Trainer Essential Kit Pro is a bodyweight suspension system that is designed for all ages and fitness levels.  Although there are other kits on the Astone Fitness website, I am focusing on the Human Trainer Essential Kit Pro because it is their most popular kit and is the one that most people should look at anyway.  Obviously, The Human Trainer is probably one of TRX's biggest competitors.  So what does The Human Trainer Essential Kit Pro have that other bodyweight suspension kits don't, and is it worth the pricetag?  Keep reading to learn more.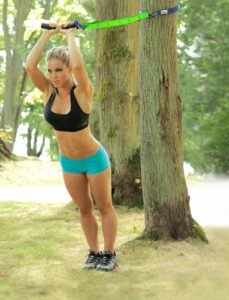 The Human Trainer Essential Kit Pro
Equipment Type:  Suspension Gym
Purchase from the Human Trainer website
Includes:
2 main straps with door anchor attachments
2 shorter anchors with their own door attachments
2 foot cradles
User manual
Carrying case
Human Trainer Fitness DVD
90-day Warranty
2-Year Replacement Warranty
Suspension training has grown in popularity these past years, and it is understandable why.  It is easy to do in most locations and you can carry suspension kits around with you if you are traveling.  They are a bit pricey, but if you use them consistently and make them a mainstay of all your workouts, then they will eventually pay for themselves and save you lots of money on a gym membership.  Still, if you have read my stuff before, you know I am quite partial to gymnastic rings.  Personally, while I think suspension systems are awesome, there is little reason you should look past the tried and true gymnastic rings.  In my opinion, the biggest advantage The Human Trainer and other suspension kits have over rings is that they often come with foot straps, which are extremely useful.  Another advantage is that they come with added features to make them easier to set up and adjust, and they often come with guides for how to use them.  Not that this information can't be found online, though.  Still, it's nice to have it on-hand if you want it.
Pros:
Versatile, lots of potential.  All you need to do is look at the kit hanging from a door frame or tree to understand the overwhelming number of bodyweight exercises you can do with it.  Change your grip, increase your bodyweight resistance and make progress through tough calisthenic skills with this single suspension kit.
Easy to set up.  It shouldn't take more than a few seconds to set up your station for each individual exercise.  The door anchors are simple to figure out, although I still recommend using the manual to ensure everything is attached safely.  You can also attach it to a single pole or beam.
Easy to adjust.  You will likely need to use different lengths for pulling/pushing with the straps depending on your workouts, so it is nice that they are easy to adjust on the fly without intruding too much.  Simply adjusting the buckles, adding the foot slings, changing rings, and sliding the door anchors is quick and easy.
Full body workouts.  Arms, legs, core, you name it, you can do it with the Human Trainer kit.  This kit can become all you need to get into great shape.
Extremely tough.  You shouldn't have to worry about anything tearing or deteriorating even after years of use.  The straps and anchors are made of tough nylon.
Safe.  Because of its toughness, you can try new calisthenic moves with less fear of hurting yourself, since the straps are so secure.
Portable.  It is nice that you can take this kit with you if you're traveling – it is lightweight and barely takes up any space.
The training DVD is great for beginners.  A lot of more intermediate users may not need it, but it is nice that the DVD has great training regimens to motivate beginners and get them started with the kit.  It is a great way to know proper forms vs. improper forms, how to do certain moves, and how the kit should look once it's all set up.

The footstraps are more useful than you'd expect.

The manual has great information.  If you don't feel like following along with the DVD, the manual is also very helpful.  In addition to instructing you on the setup, it has an immense section with the many different exercises you can do with the Human Trainer kit.  It is helpful that it shows good forms for these moves, and later pages even give workout routines.
Generous warranty.  There are two warranties that come with your purchase.  One is good for 90 days, and will give you a full refund if you aren't happy with the kit.  The other one lasts for two years and allows a replacement to be shipped to you should something in your current kit break or become unusable.
Cons:
Somewhat expensive.  At just shy of $200, these may very well leave a dent in your wallet (TRX is even more expensive!).  While they will pay for themselves after enough use, and in turn save you hundreds on gym memberships, it's still a big spend from the get-go.  And I should mention that gymnastic rings are usually cheaper. 
Tons of add-ons mean spending more money.  You get some nice stuff with the purchase of the Essential Kit, but the upsells are through the roof.  You can even get gymnastic rings!  The ceiling mounts, which are awesome to have, bother me the most, costing another $40.  Ceiling mounts would be excellent for the Human Trainer Essential Kit Pro, but you can get the same type of thing for much less at a hardware store.
The Human Trainer Essential Kit Pro Review – Conclusion
While, in my opinion, it may not match up to the good old fashioned gymnastic rings, The Human Trainer Essential Kit is still a dependable bodyweight suspension system that will, with time, save you lots of money on a gym membership.  The fact that it is so easy to use and has unlimited potential makes it a possible replacement for any other kind of workout system you use.  It should last you a long time without any wear and tear, which makes it worth the money in my mind.  If you do decide to purchase the Human Trainer Essential Kit, remember to stretch while you use it!
The Human Trainer Essential Kit Pro Review:  My Score – 4 out of 5
Do you have a Human Trainer Kit?  What has your experience with it been like so far?  Let me know in the comments below.