Affiliate Disclaimer:

This post may contain affiliate links, which means I make a small commission off purchases, at no extra cost to you. Read my full disclosure here.
Health & Safety Disclaimer

: This post may contain workout and health advice and information, designed for entertainment and/or educational purposes.  Without delay, always consult your doctor before trying out a new fitness regimen. Bodyweight MAX should not be used as a  substitute for professional medical services.
I haven't reviewed any weighted vests in a while, but as a reminder they are one of the best ways to take bodyweight training to the next level.  And I think I've found one that may very well be the end-all, be-all of weighted vests:  the Kensui EZ-Vest!  Keep reading my Kensui EZ-Vest review to learn more about why this might just be the last weighted vest you'll ever have to buy.
For full disclosure, Kensui sent me my EZ-Vest for no charge and asked me to review it for Bodyweight MAX.  Nonetheless, know that my Kensui EZ-Vest review is objective and unbiased.
Kensui EZ-Vest Review:  What Is the EZ-Vest?
It looks interesting, right?  Well, it definitely is.  The Kensui EZ-Vest on its own is unweighted, but as you can see it has sleeves jutting out from the front and back.  They are intended for you to slide weightplates on them to add as much weight as you desire.  The Kensui EZ-Vest that I'm reviewing is the Max (naturally), but there are two less expensive EZ-Vests that can hold less weight.  That's the long and short of it, but keep reading for more details.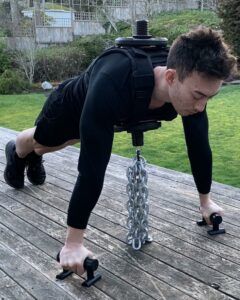 Kensui EZ-Vest Options:
Max:  capable of holding up to 300 lbs. – $299
Pro:  capable of holding up to 130 lbs. – $199
Lite:  capable of holding up to 60 lbs. – $149
Specs:
Made of Leather and Military-Grade Nylon.  To keep it lightweight and flexible, but also durable.
Metal Slide-Release Buckles on Straps. They latch in place and can be tightened.
Powder-Coated.  To help protect it from bad weather, bacteria and rust.
9.5cm Sleeves are Aluminum.  Strong and long enough to hold several weights.
1″ and 2″ Plates Will Fit the Sleeves.
Spin-Lock Design.  Slide the weightplates on, then lock them in place.
Not one single unit.  You can remove the sleeves and padding.
Free Shipping Worldwide.
Designed by an MIT Grad.  And those people are pretty smart!
100-Day Money Back Guarantee.  In case you are not happy with the item.
Lifetime Warranty.
Purchase Grants Access to Private Facebook Group.  For sharing with the Kensui community.
Pros:
Loads and loads of weight!  Why else do we wear weighted vests?  The Lite version alone allows you to add up 60 pounds, which is more than most standard vests out there, let alone the 130 pounds for the Pro and the 300 (!) pounds for the Max.  It's incredible that this thing exists in the first place!
You. Will. Keep. Getting. Stronger.  Add more weights as you improve.  It's as simple as that.
Build muscle.  You can perform fewer reps with more weights without hassle with the EZ-Vest.
Feels secure and comfortable.  Despite adding more weights while working out with my EZ-Vest, it never slides around.  The padding is so well made that I rarely need to adjust it due to discomfort.
Sturdy, strong and durable.  The materials put into this vest are the real deal.  It WILL hold a lot of weight, and you can keep using it for years without having to worry about it deteriorating or breaking.
Removable sleeves=nice bonus.  For certain workouts, it has been really helpful to be able to take a sleeve out of the vest to give myself some more range.
Refund policy is generous.  100 days for a full refund is rare… I would have expected 30 days, but 100 days tells me that Kensui truly believes in their product.
Amazing for calisthenics.  I have already felt myself getting strong with my EZ-Vest.  I am grateful that they were kind enough to send this to me, as it has reignited my confidence in my bodyweight training.
Useful for progressions.  The vest is especially useful for certain pulling and pushing exercises, and will help you achieve their more advanced variations.
Bonuses are nice.  You will gain access to their private Facebook group, and also get some workout ideas.  I haven't used these bonuses myself (and I don't even have a Facebook), but it's nice that they are there.
Worth the higher price tag.  It may seem expensive, but this vest will pay dividends if you use it.
You can clean it.  It's machine-washable, though I haven't tried this yet.  I just take a cloth.  It's nice that you can remove the padding for this purpose.
Cons:
Takes getting used to!  Seriously, this vest has been an adjustment for me after using regular weighted vests for years.  My shoulders are getting an involuntary workout every time I wear it because of all the weight it can hold!
Some possible compromises to range of motion.  Unless you remove a sleeve, certain moves will require your range of motion to be smaller.  For example, I like to do a pushup where I lower my chest all the way to the floor and briefly lift my hands up – this isn't possible if the front sleeve is attached.
You have to buy the weightplates.  Unless you take this to your gym.  And weightplates aren't usually cheap.  Just keep this in mind.
Instagram ads.  My first exposure to Kensui Fitness was an ad with guy wearing the EZ-Vest doing handstand pushups.  They have numerous other ads like that with a person doing advanced moves that 0.05% of the world can ever have any hope of doing.  It may be touted as "motivation," but it actually may have the opposite effect and hurts some people's confidence.  And really, are you trying to truly "motivate" us or are you just plain showing off?  I prefer the simpler ads – Remy (the founder) doing simple pushups with it and their other similar ads are better.
Kensui EZ-Vest and Safety
I wanted to add this section because I quickly realized how important it is to be careful with this vest.  It's not like other vests!  So a few things to keep in mind:
Even weight distribution is critical.  The only time the vest felt uncomfortable was when I had too much weight on either the front or back.  I was constantly adjusting it, but it was futile since it would just slide towards the weighted side.  As you add more weights, make sure to evenly distribute them to both the front and back!
Start small.  Seriously.  I know how tempting it may be to test the limits of your new EZ-Vest, but remember that your training is about YOU, not the equipment.  Start with lighter weights and work up when you are confident enough that you can safely do so!
Tighten the straps prior to adding weights.  I've found it more difficult to tighten my vest once the weights are attached, which can mean it isn't secure enough.  Put it on without weights, adjust it, and then add the weights.
Kensui EZ-Vest Review – OVERALL
The Kensui EZ-Vest is an extremely effective and innovative design that is undoubtedly going to improve your fitness levels.  From a calisthenics perspective, this vest is going to be a permanent mainstay as I continue my bodyweight fitness journey.  It is amazing that such an idea was conceived, and I applaud the designers on the quality.  I hope my Kensui EZ-Vest review has helped you understand what makes it such a worthwhile purchase.  Use it safely, get stronger, and as always, remember to stretch!
My Score:  5 out of 5
Do you have a Kensui EZ-Vest?  How has it helped you in your training?  Let me know in the comments!