Affiliate Disclaimer:

This post may contain affiliate links, which means I make a small commission off purchases, at no extra cost to you. Read my full disclosure here.
Health & Safety Disclaimer

: This post may contain workout and health advice and information, designed for entertainment and/or educational purposes.  Without delay, always consult your doctor before trying out a new fitness regimen. Bodyweight MAX should not be used as a  substitute for professional medical services.
Apparently resistance bands, and their "variations," are all the rage now, because I just keep coming across them.  Every company says their brand is the best on the market.  It's hard to tell when there are so darn many of them, though!  So, I'll let you read my reviews and decide for yourself. Redgefit is another competitor in this market, and their Portable Gym Machine is worth checking out.  So, read more of my Redgefit review to learn more about how this brand stacks up.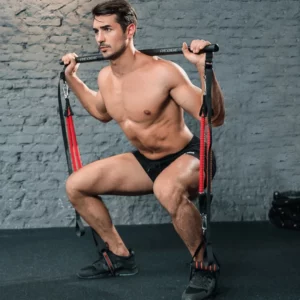 Redgefit's Portable Gym Machine looks a little more complicated than your standard resistance bands set – and it is.  The bands themselves aren't your typical rubber/latex type, but rather elastic ropes.  It comes with an attachable bar and foam handles.  It's a bit much at first but it doesn't take long to prepare everything and get to your exercises.
Redgefit – Portable Gym Machine: Features
4 or 6 bands.  You decide how many bands you want included.
30lbs. of resistance per band.  A total of either 120lbs. or 180lbs.
Bar is 40 inches.  It can also be split in half for travel.
Can include workout videos.  For an additional charge, you can access the Redgefit app for workouts.
Travel bag included.  Everything you receive will fit in it.
Foam handles.  Dual-purposed foam handles for gripping with your hands or your feet, allowing for all muscle areas to be targeted.
30-day refund policy.
Pricing:
$160 for the 4-band set
$180 for the 6-band set
$230 for the 6-band set with videos
Redgefit – Portable Gym Machine: The Good
Lots of resistance!  30 pounds per band helps keep things simple.  It is enough for beginners but you can add a lot more with the additional bands to keep challenging yourself and improving.
Bands are amazingly strong.  I am probably most impressed by the quality of the actual bands, which to me are more like scrunched up ropes.
Can be used for all muscle groups.  Redgefit's Portable Gym Machine is great for your upper body, lower body and core.  The dual-purpose handles really help a lot with allowing you to hit the core and lower body, in addition to the upper body.
Lightweight, travel-friendly.  Like other bands, these take up minimal space and can be thrown into a suitcase or backpack (and it comes with a travel case, too).  The bar is barely 4 pounds and can be split in half, so it's all great for travel and easy storage.
High resistance for a lower price.  No doubt, you will save money on gym fees and weights if you go with this brand, like most other resistance bands.  It seems expensive at first, but if you actually use them regularly the price will be more than worth it.
They often has amazing sales.  Redgefit's website has sales all the time, and they often include free shipping, too.  And if you click the links from my review, you will get a discount as well!
App is great.  Tons of options with the app allow you to select your favorite types of workouts and figure out nutrition.  It is well designed and easy to use.
Results!  No matter how you use these bands, you will get results – muscle growth, strength, flexibility, endurance, and more.  For fellow calisthenics lovers, these are great for helping progress with some of the toughest moves.
Redgefit – Portable Gym Machine: The Bad
Increments of 30lbs. may not be ideal for some.  Going from 30lbs. to 60lbs (to 90, to 120…) is a huge adjustment, so it's hard to know when you're ready to make that huge jump.  It would be great if there were less-resistant bands included to make progression easier.
The bar isn't as useful as they make it out to be.  Other than some extra stability and resistance with squats and other bar-behind-the-neck exercises, I don't find much use with the bar.  It's awesome that it's included, though.
Website has lots of errors.  I can't help but notice the spelling and grammar errors on the website.  It makes me think its design was outsourced to non-native English speakers.  It's weird how the official website is lousy but the app is great.
No warranty option.  A big weakness with the Redgefit Portable Gym Machine is that it does not have a warranty program in case of long-term defects.  There is a 30-day money back guarantee for refunds, but I'm not sure why they don't offer a warranty.  It sort of implies they don't stand behind the quality of their product…
OVERALL
The resistance ropes of the Redgefit Portable Gym Machine make it a solid contender when you're looking for a product that gives you a full body workout without having to go to the gym or buy expensive weights.  They are HIGH quality!  The pricetag seems like a lot at first, but if you use the item then it will pay for itself after a short amount of time.  If the 30-pound increments weren't the only way to increase resistance, then this would be a 100% recommendation, but because of that simple fact it may not be the best option for some people, especially beginners.  In addition, a lack of warranty options really hurts this product overall.  It's surprising that they don't have one.  Otherwise, this is still a pretty solid option for resistance band training.  And as usual, remember to stretch!
My Score:  3 out of 5
<<Purchase a Redgefit Portable Gym Machine here>>
Do you have the Redgefit Portable Gym Machine?  How has it been working for you?  Let me know in the comments below!