Affiliate Disclaimer:

This post may contain affiliate links, which means I make a small commission off purchases, at no extra cost to you. Read my full disclosure here.
Health & Safety Disclaimer

: This post may contain workout and health advice and information, designed for entertainment and/or educational purposes.  Without delay, always consult your doctor before trying out a new fitness regimen. Bodyweight MAX should not be used as a  substitute for professional medical services.
Pick the RIGHT Rogue Fitness Jump Rope for YOU
I may not mention it as much as I should, but I love jumping rope.  It is a mainstay in my warmups, and is one of my favorite types of cardio.  After hours and hours of jumping rope with different jump ropes, I have been able to feel out which jump ropes are better for me, and which ones aren't great.  With this post, I would like to toot the horn for Rogue Fitness, a fitness company and studio that has an outstanding reputation.  Use my guide in this post to help you decide which type of Rogue Fitness jump rope is best for your jump rope style – and they have a LOT of options on their website.
Best for Increasing Speed
Specs:
Adjustable Cable
Bearing Swivel for omnidirectional movement
Aluminum Handles with Textured Grips
8 color options
Handle Length: 6.75"
Handle Diameter: 7/8″
Lightweight Aluminum Head on Grips
Cable: 120″ long
Coated 3/32″ cable
This USA-made jump rope is ideal for those jump ropers who want to improve their jumping rope speeds.  It is a great option for people who already have at least a little bit of experience jumping rope and are interested in going faster and faster over time.  If you are consistently jumping rope and aim to increase the speed at which you do so, including progressing to double-unders, then this jump rope is an ideal option.
The cable spins and flies through the air not just quickly, but also smoothly.  There are no uneven spins thanks to its high-quality, thin cable that is just the right weight and its oiled lubrication.  The grips are also a perfect weight, and are just long and thin enough to fit comfortably in your hands.
Best for Strength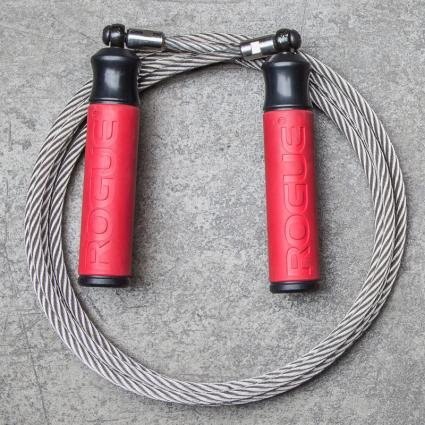 Specs:
8mm diameter cable
2 Options: 9′ or 10′ length
9′ cable weight: 1.5LB (24 ounces)
10′ cable weight: 1.75LB (28 ounces)
Grips: 1″ diameter, 0.3LB
Non-Adjustable
If you are doing your workouts to build strength, then a Rogue Heavy Jump Rope is a great option for a warmup or a cardio portion of your workout.  This rope can strengthen your upper body in ways that cardio workouts cannot, and even weights cannot!  Jumping rope with a heavier cable takes some getting used to as it is important to not try and go too fast, but your upper body AND lower body will benefit much more than you'd expect.
The grips are thicker, softer, and overall feel great in your hands.  Despite its weight, this rope still spins smoothly – just don't use it expecting speed.  It has a very specific purpose.
Best for Beginners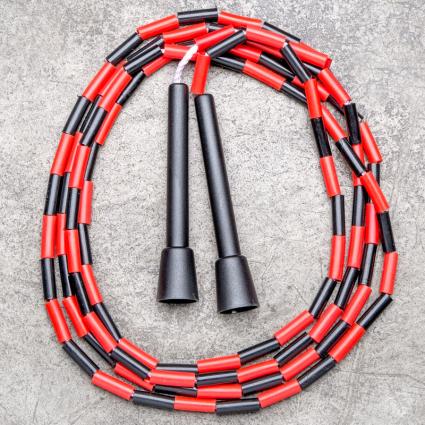 Specs:
Plastic beads
Plastic handles
Braided polypropylene rope
Multiple options for lengths (7′ through 10′)
Available in different color options
If you aren't sure if you want to stick with jumping rope in the long-term, then I suggest purchasing the lightweight beaded jump rope.  This Rogue Fitness jump rope is ideal for beginners to jumping rope or for those who haven't jumped rope in a long time.  It is also the least expensive option out of the the Rogue Fitness jump ropes I list here.  With its lighter weight and slower spin, this is not a good option for more experienced jumpers.  In fact, this jump rope causes a bit of frustration for me since it is so light and spins so slowly.  But if you aren't sure if you want to keep jumping rope, then this is a solid option.  If you find you like it, then you can upgrade to another more durable rope later on.
This is also a great option for kids.  For inexperienced adults and for kids on the playground, the loud and reassuring *tap* of the rope hitting the ground or floor is an awesome way to find a rhythm with jumping rope.
Best for Intermediate Levels
Rogue Thai-Style Jump Rope 3.0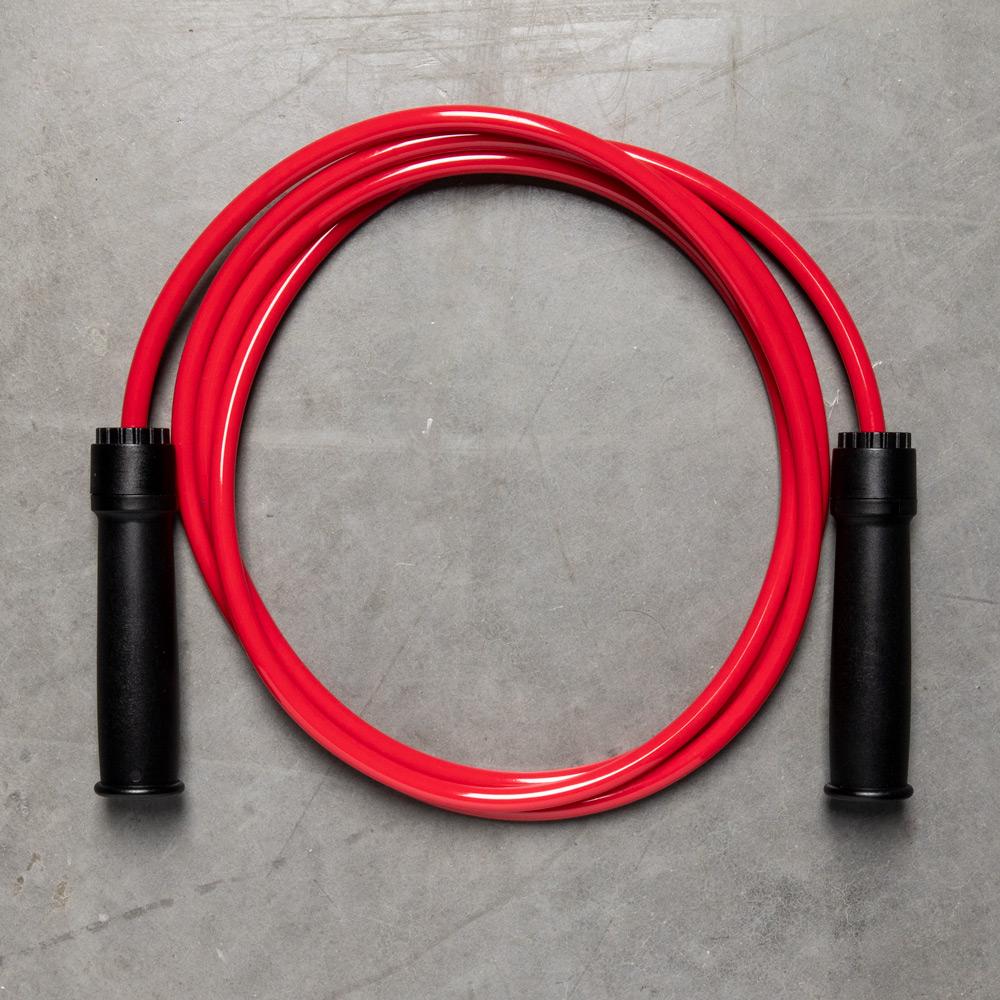 Specs:
Heavyweight PVC Cable
9' or 10' length options
Fully Adjustable Length
Polymer Nylon Resin Handles
If you have SOME experience with jumping rope and are tired of the cheaply made jump rope you've been using for years, then the Thai-Style rope is a great option.  It is a perfect combination of being somewhat heavy, but also somewhat speedy.  It is no frills but still high quality, and is perfect for those who simply want a great jump rope for their cardio or warmups, and aren't looking for anything too intense.  I also think it's the right option if you just jump rope to get a good heart rate and don't actually have any specific goals related to jumping rope.  It will last a while and does the job right.
Best for Those Who Want an Intense Challenge
Specs:
Thick Polypropylene Weave
Ergonomic Grips
No Swivel or Bearing for High Resistance
Three Size Options (8′, 8'6″, 9′)
Are you looking to push your jump rope game to a new level?  Then you should definitely check out the drag rope.  This Rogue Fitness jump rope is heavy and doesn't have any bearings linking the cord to the grips.  That combination means you have to WORK to make this thing spin.  The thicker rope also means that it drags through the air with more resistance.  If you are looking to build strength and speed, and overall want to challenge and push yourself to become a jump rope machine, then I strongly suggest this jump rope.  It will be incredibly difficult at first, but with time you can master this jump rope and make it a staple of your warmups or even an important part of your main workout.
After using this jump rope for a while, going back to a standard jump rope will feel almost too easy – it really has that kind of effect!
Rogue Fitness Jump Rope Buyer's Guide: Conclusion
I hope that you were able to use this guide to pick a Rogue Fitness jump rope that works for your personal fitness goals.  Additionally, I hope it has raised your awareness on the importance of having a great jump rope. To learn more about the many benefits of this amazing exercise, check out my post on jumping rope.  And as always, remember to stretch!
Do you have a Rogue Fitness jump rope?  Which kind, and how has it benefited you?  Let me know in the comments below!