Affiliate Disclaimer:

This post may contain affiliate links, which means I make a small commission off purchases, at no extra cost to you. Read my full disclosure here.
Health & Safety Disclaimer

: This post may contain workout and health advice and information, designed for entertainment and/or educational purposes.  Without delay, always consult your doctor before trying out a new fitness regimen. Bodyweight MAX should not be used as a  substitute for professional medical services.
Crossrope Jump Ropes – Buyer's Guide
No matter what kind of work out I do, I almost always jump rope during my warmup.  The hand-foot coordination, the intense cardio, the mind-muscle exercise, and the overall rhythm of jumping rope is something that no other type of exercise can do for me.  It's both meditative and heart-pumping.  So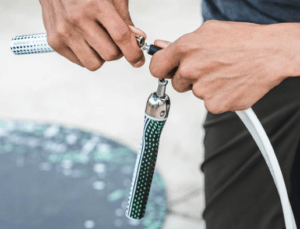 that's why I like to include a post about jump ropes every now and then.  Today, I am going to go over Crossrope jump ropes.  These ropes are expertly engineered and are crafted with great care.  There are two types of Crossrope jump ropes in particular that are available on their website, so it is helpful to know which one is the best to buy.  Keep reading my Crossrope jump rope buyer's guide to learn more.
Specs: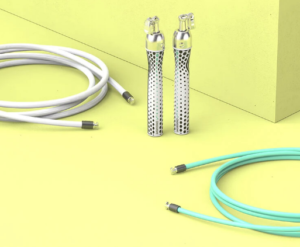 Slim ergonomic handles
0.5lb rope (white)
0.25lb rope (green)
Custom length based on your height
Carrying pouch
Access to Crossrope app (free version)
"Fast-clip" handle-rope connecting system
$99
60-day refund policy
Free shipping in USA
Overview:
The price may seem steep at 100 bucks, but you are getting two high-quality jump ropes here.  The fast-clip addition allows you to quickly connect your chosen rope with the handles.  They are made in such a way that allows rotations to move fluidly and without any disruptions.  Every part of the Crossrope jump ropes Get Lean set is made with quality and should last its users a long time.
Ideal Use for the 0.5lb Rope:
People like me, who jump rope to warm up and aren't looking to become jump rope pros!  Seriously though, the 0.5lb rope is perfect for beginners.  It weighs just enough to get you jumping over fast rotations and to give your arms and wrists a decent workout.  You will be able to jump very quickly if you want to, but it isn't ideal for the true speed-jumpers.  The 0.5lb rope is great for warmups or quick cardio bursts between sets.
Ideal Use for the 0.25lb Rope:
This Crossrope jump rope is very light, and I would not advise beginners to use this out of the box.  If you have been jumping rope for a while and know what you're capable of, then this lighter rope will offer a great workout for you.  It is designed for speed, and will require much more effort per rotation, especially if you are looking to do double-unders.  This rope is for the real jump rope aficionados!
Specs: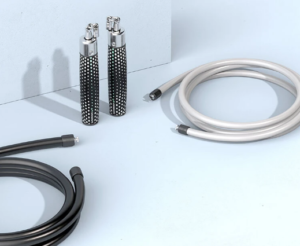 Thicker ergonomic "power" handles
1lb rope (white)
2lb rope (black)
Custom length based on your height
Carrying pouch
Access to Crossrope app (free version)
"Fast-clip" handle-rope connecting system
$149
60-day refund policy
Free shipping in USA
Overview:
Another high priced set, but again you will get two high-quality jump ropes.  This pair also includes the fast-clip addition so you can quickly connect a rope with the handles and change them on the fly.  Every part of this set of Crossrope jump ropes set is high-quality and will last a while.  This pair is less popular, because neither rope is particularly recommended for jump rope beginners.
Ideal Use for the 1lb Rope:
The official website notes that this rope is ideal for high-intensity strength workouts.  I see what they mean – integrating this somewhat heavier rope into your strength training will get your heart racing and leave you drenched in sweat.  I find using this rope in between sets for even just 30 seconds during my workouts gives me a great mid-workout rush while still challenging me.  I also find the 1lb rope useful for warmups if you are looking for something a little more intense than the half-pounder I describe above.  You won't get as many rotations, but you will still get great results – just in a different way.
Ideal Use for the 2lb Rope:
The heaviest Crossrope jump rope available is perfect for anyone who wants to get strong.  Whether you want to lift heavy weights or do the one-armed pull up, and you are looking for a unique approach to the cardio side of your workout, you should definitely try this jump rope out!  It takes some getting used to, but once you get the hang of it you will slowly but surely notice your strength and endurance benefiting immensely.
Crossrope Jump Ropes – About the App
The Crossrope app comes bundled with the set of jump ropes you buy.  The version you get automatically is free, but there is also a paid version – $80 per year.  The free version (obviously) has far fewer workouts available, but it should be enough for beginners before they decide whether or not they want to upgrade to the paid version or just use the Crossrope jump ropes in their own ways.  The paid version has loads of workouts, can record your jumps (!?), and includes dozens of challenges and full programs to take advantage of.  This is awesome, but I personally do not have any use for it because I am so accustomed to designing my own workouts anyway.  But, if you find yourself falling in love with your jump ropes and need ways to creatively use them, then the paid version is a good way to get inspired.
Crossrope Jump Ropes Buyer's Guide – Conclusion
They are expensive for a reason!  The Crossrope jump ropes are high-quality and should last a lifetime.  Their handy fast-clip designs are ingenious and allow for perfectly smooth rotations.  If jumping rope is something you are determined to embrace as a part of your workouts, then I would recommend starting with the lighter set just to be safe.  But if you have been jumping rope for a while and need to upgrade the quality of your ropes, either (or both) sets are great purchases.  And as always, remember to stretch!
Do you own a set of Crossrope jump ropes?  How has your jump rope game improved since you've started using them?  Let me know in the comments below!