Affiliate Disclaimer:

This post may contain affiliate links, which means I make a small commission off purchases, at no extra cost to you. Read my full disclosure here.
Health & Safety Disclaimer

: This post may contain workout and health advice and information, designed for entertainment and/or educational purposes.  Without delay, always consult your doctor before trying out a new fitness regimen. Bodyweight MAX should not be used as a  substitute for professional medical services.
The Evolve Over Bar is a unique twist on the physics of your standard doorframe pull up bar.  We have seen many bars that hook over the doorframe, latch onto the bottom of the upper part of the doorframe, and the more common type that hangs underneath it.  Unlike all of those types of pull up bars, the Evolve Over Bar actually relies on gravity and weight to keep itself latched into the sides of your doorframe.  It's a very smart design that touts itself as being the safest pull up bar in the world.  Keep reading to learn more, and to understand why I think it's a great idea to buy one if you're in the market.
Full Disclosure: Evolve Over were kind enough to send me one of their pull up bars in order to write this review. Please rest assured that it is still objective and unbiased.
Evolve Over Bar

Equipment Type:  Doorframe Pull Up Bar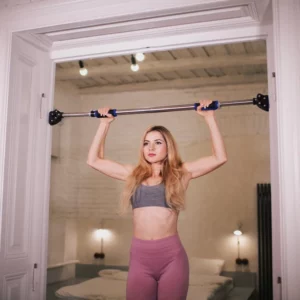 Price:  $183.25
Buy on Evolve Over's Website with 10% off
Features of the Evolve Over Bar:
Fits Most Doorframes: The length of the shorter bar will fit snugly under doorways between 28.3in-36.2in.
Extra-Long Version for Hallways and Corridors.  In case your home doesn't have a doorframe suitable for the shorter bar, or if you simply prefer the longer version.  This one can fit 36.22in-47.24in.
Adjustable: A pulling system in this bar allows you to increase or decrease its length for the perfect fit wherever you place it.
Padded Anchors: Silicone surfaces on either end press firmly against the doorframe to prevent scratches and press harder against the frame when you hang from it.
Secure Snap-Buckle Locking System.  After you have it in place, you will twist the bar to lock it and ensure it won't slide at all.  Then you secure it with the buckle locks on either side.
Can Be Used for Other Exercises: Lower the bar closer to the floor to practice other moves and progressions, like the single-bar dip, or do stretches.
Made with Stainless Steel.  To prevent wear and tear after repeated use.

Even while doing headbangers and other explosive moves, the Evolve Over bar will not budge.

Removable Neoprene Grips.  To perform different moves based on hand placement
Four-Bolted Mechanism Uses Physics!  Gravity and weight make the bar even more secured against the inside of your doorframe.  There's a four-bolt doohickey on either end that makes this possible.  Neat!
Comes read to install.  No tools needed, which also means there will be no holes in your walls.  No assembly required, either.
Pros:
Two Models Available for Purchase:  Depending on your home situation, you can pick either – the longer or the shorter.
No issues fitting it anywhere.  I find this is really great in particular because the over-the-door pull up bars may not fit in any doorframes in a single home.  My first over-the-door pull up bar wouldn't fit ANYWHERE when I lived in my first apartment.  Talk about disappointing!  I wish I knew about the Evolve Over bar back then.
Removable Grips are Great:  Since they use velcro, you can tighten them so they do not twist when you hang!  I love that you just slide them around to get a different hand position.  Great for variations like the inner pull up.  They don't twist around on the bar so your grip placement won't slide down while you're hanging.
No assembly:  It comes in a box and is ready to get put up immediately.
Customer Service Is Helpful: In case something is missing or broken in your order, all you have to do is either email Evolve Over.  Most likely they will fix the issue at no extra charge.
Portable:  The bar doesn't take up too much space in a suitcase or your car, so if you want to take it down from its spot in your home and take it on a trip, you can do that without too much trouble. Just note that it will add a fair bit of weight to your suitcase.
It really is safe:  There are so many securing components in this simple bar that you can use it to your heart's content without worrying about any accidents.  It grips the frame even more when you weigh it down.
Not just for pull ups.  You can loosen the bar slightly and lower it to give yourself room for single-bar dips if you want.
30-Day Refund Policy.  A fair policy.  Give it all you've got for those first 30 days.  If it isn't all Evolve Over hypes it up to be, you can return it and get your money back.
Cons:
Potential Lopsidedness: Since most of us will be eyeballing it when we set it up, you won't know how even it will be until it is completely assembled.  Still, the quick setup makes this a very small annoyance.
Fairly expensive.  They have sales for the Evolve Over bar a lot, so you should definitely buy it when that happens.  If not, you will be forking over almost $200, which is pretty high for a pull up bar.
Heavy.  I know I mentioned that it's portable, and it is.  But just keep in mind that it isn't as light as most other doorframe pull up bars.
No warranty.  This is a bummer… Who knows what may happen after those first 30 days are up?
Changing its position may mess up the momentum during your workout.  The first time I used the Evolve Over bar I wanted to go from pull ups to single-bar dips.  It took a lot longer than I expected to slide the bar down the doorframe, make sure it was level, twist it back into a secure position, and lock it.  I was feeling great during that workout but the adjusting put a damper on my mood.  Since then, I've kept it in a pull up position and don't plan on moving it anymore.  It's perfectly fine where it is and I still love it, but I thought this was worth mentioning.
Evolve Over Bar – CONCLUSION
For its simple and safe setup, the Evolve Over Bar, in my opinion, is one of the best doorframe pull up bars that you can find.  Its unique physics-based mechanisms mean the bar won't move, and the fact that there are two options available based on space is awesome. I also love the secure grips that can be moved based on how you want to position your hands (you can wash them, too).
For other door pull up bar recommendations, check out my guide on which is best for you.  Do you have an Evolve Over Bar, or a different kind?  How has it been for you?  Let us know in the comments below.  And of course, remember to stretch!
My score:  4.5 out of 5