Affiliate Disclaimer:

This post may contain affiliate links, which means I make a small commission off purchases, at no extra cost to you. Read my full disclosure here.
Health & Safety Disclaimer

: This post may contain workout and health advice and information, designed for entertainment and/or educational purposes.  Without delay, always consult your doctor before trying out a new fitness regimen. Bodyweight MAX should not be used as a  substitute for professional medical services.
Every now and then I come across a product and instantly wonder: how has no one thought of this

before?  This is definitely the case with Wearbands, which is exactly what it sounds like: resistance bands that you wear!  Even before you read my Wearbands review, you can instantly tell that using this great product goes far beyond just bodyweight and calisthenics training.  Athletes of any kind will greatly benefit from using Wearbands.  But, since my website is based around calisthenics, using Wearbands for this type of exercise is particularly beneficial.
Wearbands – Features & Specs
3- or 5-level lower body packages.  Different resistance levels for lower body training.
2-level upper body package.  An option for upper body training.
Upper body bands are also used for lateral lower body.  Strap them on each sock.
Belt for attaching all bands being used.  Fitted for your size, strap it around your waist.
Socks for the lower body bands.  Based on your shoe size, they will have attachment hooks.
Gloves for the upper body bands.  Also with attachment hooks.
Bands lengths are based on your height.
Wearbands – Pricing and Refund Policies
3-Level Lower Body System:  $79.95
5-Level Lower Body System:  $99.95
3-Level Lower Body System with Upper Body:  $99.95
5-Level Lower Body System with Upper Body:  $119.95
Refund Policy:  30-day money-back guarantee
Warranty:  90 days for defects in workmanship
What Are Resistance Bands?
Resistance bands are elongated rubber bands that can be stretched to extreme lengths to add resistance to your workouts. They are used for many purposes, including:
Strength training
Injury rehabilitation
Physical therapy
Adding resistance to cardio
Variations in calisthenic workouts
Stretching
Yoga
Variations in pilates workouts
Resistance bands are lightweight and do not take up much room. Some of them are looped, and some are not. Furthermore, many of them come with handles to improve grip. A lot of the time a resistance band purchase comes with a door anchor included, which opens up more possibilities for workouts.  The Theraband resistance bands I am reviewing here are a special kind: CLX, which means the entire band has loops all along it.
Different Types of Resistance Bands
Your type of resistance band workout will often be dependent on the type of resistance band you are using. For example, a resistance band with handles is not looped, but you will be able to have a firmer grip on it. With a firm grip, you can perform upper body movements like flies, rows, curls, shoulder presses, and deadlifts (just to name a few). For lower body workouts, resistance bands are great for squats, lunges, and leg presses.
If you have a looped resistance band, or an unlooped band without handles, you open up new possibilities. Generally speaking, you have a wider range of exercises available. Resistance bands without handles are great for beginners especially, because they can be gripped with bars and then in turn will assist you on challenging bodyweight exercises. For example, you can do assisted pull-ups and chin-ups by looping the band under your foot, and then gripping over its ends with the pullup bar. This will take away some of the bodyweight during your pull-up, and you can therefore complete the entire move with less weight. You can also use them to add more challenge to moves like the pushup, and most of the moves mentioned above with the handled resistance bands.
What Makes Resistance Bands So Special?
So many reasons! Like I mentioned, bands are great for assisting beginners with challenging bodyweight workouts, or adding more resistance to those same workouts for more advanced levels. But there are many other benefits to using resistance bands:
They are great for helping you stretch muscles that are often ignored.
They are usually very inexpensive.
They fit easily into a suitcase or backpack, so they are great for traveling – no excuses for not working out while you're on the road!
They provide the same results and level of challenge as free weights and machines, just in different ways.
They are so flexible that you can use them in almost any type of bodyweight workout to add in new variations.
Wearbands – Pros:
Strong and reliable.  Since Wearbands are generally going to be subjected to a lot of movements (you are wearing them, after all), it is good to know that intense training will not cause any damage.  This includes cardio, conditioning, and any kind of calisthenic training.  Furthermore, the socks, gloves and belt are very secure and shouldn't receive any wear and tear, either.
Easy to put on.  You won't have to delay your workout too much as you put on all the Wearbands equipment.  I suggest checking out their detailed FAQ page for more information.
Can be used for all muscle groups.  Wearbands were seemingly designed to mostly benefit your lower body, but your upper body will benefit from them as well if you purchase the add-on.
Lightweight, travel-friendly.  You can shove all the Wearbands materials into a backpack or suitcase without losing too much space.
Inexpensive.  Honestly, I am surprised they don't charge more.  The full lower and upper body package is only $120.  It's a steal, if you ask me.
Just plain versatile.  Basically, if you're going to work out, you can put these on and improve the workout quite a bit.  It's that simple.  A push up is harder.  A squat is harder.  The added resistance makes all the difference.
Great for improving certain calisthenic moves.  I find that Wearbands are especially useful for training to improve pull ups, or working towards a muscle up.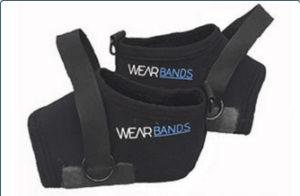 Wearbands – Cons:
Website needs work.  It seems outdated, but more importantly, it is difficult to navigate and get the information you seek.
There will be an adjustment phase when you start.  Wearing the Wearbands the first few times will feel awkward.  This is twofold: 1-even the lightest band may be extremely difficult to work out with at first (just keep at it); and 2-the socks, gloves and belt will feel strange and possibly a bit uncomfortable for your first few times wearing them.  You will have to adapt and get used to it – it will happen if you give it time.
Wearbands Review – OVERALL
Kudos to the minds behind Wearbands!  Take your bodyweight training to the next level with this innovative product, and feel your strength grow more and more with every workout.  Oh, and before you take off your Wearbands, remember to stretch!
My Score:  5 out of 5
Do you have a set of Wearbands?  How have you been using them, and what are your thoughts on them?  Let us know in the comments below!