Affiliate Disclaimer:

This post may contain affiliate links, which means I make a small commission off purchases, at no extra cost to you. Read my full disclosure here.
Health & Safety Disclaimer

: This post may contain workout and health advice and information, designed for entertainment and/or educational purposes.  Without delay, always consult your doctor before trying out a new fitness regimen. Bodyweight MAX should not be used as a  substitute for professional medical services.
The Rack Workout is an unusual but extremely versatile piece of calisthenic equipment.  If you love bodyweight workouts like I do, then all you have to do is look at it; there is so much you can do with it!  At 30 pounds, it is compact yet sturdy and can be used in all sorts of positions.  It is also hard to categorize for the purpose of the Bodyweight MAX website, so I'll have to file it under "Dip Bars" for now…  Anyway! Keep reading my Rack Workout review to learn more.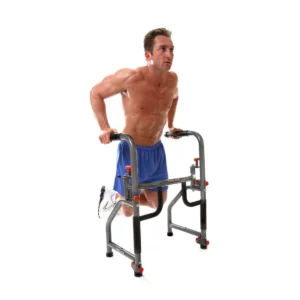 The Rack Workout:  Specs
Weight: 30 pounds
Dimensions:

15.75 inches x 24 inches x 34 inches

Steel design.  For durability.
Rubber feet.  To prevent sliding
Foam handles.  For a better grip.
Changes shape. Use the fastening knobs to change its shape so you can perform different moves.
Urethane wheels.  For rolling exercises (ie ab rolls).
Warranty policy:  90 days.
Price:  $179.95
What Types of Workouts Can You Do?
The Rack Workout is very versatile, and it is possible to work out every single muscle group with it.
Back and Bicep.  Position The Rack so its dip bars are at the top.  Perform bodyweight rows and do lever progressions at this position.
Chest and Tricep.  There are many positions and setups for you to perform dips and push ups.  There are many ways to grip the Rack too, so there will be a lot of variations.
Shoulders.  Similar to working your chest and triceps, but you will change the positioning of your body this time.  You can also use the Rack Workout for handstand training.
Glutes.  There are quite a few ways to perform squats and lunges, many of them involving keeping one foot on the rack while the other leg does all the work.  Others allow you to sit on the Rack, which is helpful for training for a pistol squat.
Legs.  You can use the wheels for some leg workouts, like hamstring rolls.  Or rest your chest on the Rack, grip the handles and perform tuck extensions.
Abs.  There are many ways to work your abs as well – knee raises with the dip bars, and ab rolls with the wheels are the most obvious.  You can also use different hand positioning for the ab rolls.
Yoga and Stretching.  Use The Rack for stretching all muscle areas to prevent injury.
Weight Training.  The Rack Workout weighs 30 pounds, so you can actually use it for lifting exercises.  There are also two parts that allow you to add weight plates.
Pros:
Full body workouts!  This single piece of equipment can let you hit every muscle area.
Tons of potential for variations.  If you get bored with one type of push up, the Rack Workout most likely has a possible variation to challenge you further.
Compact.  This item is easy to store since it doesn't take up much space and is adjustable.
Great for tough calisthenic progressions.  The Rack will help you build the strength to perform those awesome moves like the planche, handstands, levers, and pistol squats.
Lots of content online for workout ideas.  Follow the Rack on social media to get workout ideas to motivate you to keep challenging yourself.  People other than the Rack Workout have posted many videos, too.
Weight training facet is cool.  I don't typically weight train unless it's with lower body.  That said, the fact that you can hold and lift the Rack for different types of weighted exercises makes it that much cooler.
Take it with you.  I really like how you can just take this outside and start working out.  Don't limit yourself to a room in your home with the Rack workout.
Frequent sales.  Although it is usually priced at about $180, the Rack often goes on sale.  Check the website often so you can save some money.
Very sturdy.  This is 30 pounds of steel!  You should be able to use it for years and years before it starts to show its age.
Price is worth it.  With all the muscle groups it targets, you will save a lot of money when compared to a product like a dip station or even a gym membership.
Cons:
Back and bicep exercises are more limited.  In case you couldn't tell, I do find that my back and biceps need that extra TLC with a pull up bar.  The Rack just can't work them the same way.
Too heavy for travel.  When I say it's portable, I mean more like, you put it in your car to drive to a field to work out.  I definitely wouldn't throw this in my suitcase though.
The Rack Workout Review – OVERALL
The Rack Workout is worth the $180 it costs for those who make full use of it.  I think it is especially great because it helps with certain calisthenic progressions and can be taken anywhere.  In my case, using it outside it so helpful because my home doesn't have the space for certain moves.  While there is just no replacement for the pull up bar to target your back and biceps, the Rack Workout is still great for a full body workout.  And of course, while you're using the Rack Workout, remember to stretch with it!
My Score:  4.5 out of 5
Do you own The Rack Workout?  How has it helped you reach your fitness goals?  Let us know in the comments below!