Affiliate Disclaimer:

This post may contain affiliate links, which means I make a small commission off purchases, at no extra cost to you. Read my full disclosure here.
Health & Safety Disclaimer

: This post may contain workout and health advice and information, designed for entertainment and/or educational purposes.  Without delay, always consult your doctor before trying out a new fitness regimen. Bodyweight MAX should not be used as a  substitute for professional medical services.

Basebar Pro – REVIEW
I stumbled upon the Basebar Pro while scrolling mindlessly through my Instagram feed.  They have ads up the wazoo, but thankfully they are straightforward and less annoying than most other fitness equipment ads I see on there.  The Basebar Pro is one product of many in the Baseblocks family, so in addition to this Basebar Pro review, you can expect me to give you in-depth information on more of their products in the future.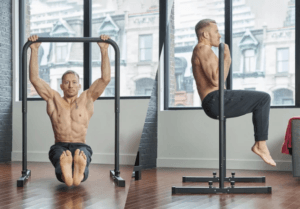 The Basebar Pro is hard for me to categorize, as it is basically a low pull up bar, or a single dip bar.  So with that said, I will consider it both for the sake of fitting it into my review categories.
Basebar Pro: Specs
Equipment Type: Low pull up bar / single dip bar
Includes: Basebar Pro (bar, pins, base, and lower legs)
Base length:  32″ extended (9″ folded)
Bar length: 33″
Heights: 35″ and 51″
Bar Diameter: 2″
Weight: 27lbs.
User weight limit:  260lbs.
Lifetime Warranty
Made in China
Cost:  $189
Shipping:  Free to lower 48 states and Canada
At first, I thought this item had limited usefulness.  They slapped the face and name of Georges St.-Pierre on them as well, which apparently carries a lot of sway (I have no idea who he is).
BUT, after giving it a fair shot, the Basebar Pro is actually the real deal.  I definitely recommend this item!  It is an upgrade over their regular Basebar, and is obviously more expensive.  But, you might as well pay the extra $40 since you can move this one out of the way easily, and the original takes up more space.
Pros:
Yes, it is VERY sturdy.  The long, heavy base legs are going to keep the Basebar Pro anchored to the floor.  Swinging and explosive moves should not make it rock or wobble at all.  This thing is not going to move!
Adjustable heights open up different exercises.  The two heights are 33 inches and 50 inches.  Each height will provide you with different options for your calisthenic exercise training.  For example, you can do L-hang pull ups with the higher height, and beginner-level progressions with the lower height.
More potential than you'd expect.  The Basebar Pro may not be as high up as a regular pull up bar, but it has just as much potential for your workouts – and in some ways, more potential.  Not only do the two heights I mention above allow you to perform all sorts of great upper body exercises and progressions, but the Basebar Pro can also securely hold any additional suspension-type equipment.  This includes gymnastic rings and resistance bands, among others.
Perfect for those with low ceilings.  I wanted to mention this because a lot of the products I review have this in common:  they are NOT great for homes with low ceilings.  With the Basebar Pro, 50 inches is as high as you will get it.  You can train for muscle ups without worrying about busting your head against the ceiling and making a hole.  I can't emphasize this enough: if you have low ceilings, training outside isn't an option, and you want to train your pull ups in as many ways as you can, then the Basebar Pro is among your best options!
Base legs are adjustable and make storage easy.  The regular Basebar doesn't have the option to flip the legs upward, so it is a lot harder to store it when not in use.  The Basebar Pro's legs can be flipped up in seconds, and all you'd have to do is slide it against the wall or behind the couch.  It is great for limited space.
Progression training!  I mentioned it already, but I can't tell you how great this item is for progression training with the tougher calisthenic moves.  Levers, planches, muscle ups, toe-to-bar leg lifts, skin-the-cats… All those weirdly named calisthenic moves can be trained with the Basebar Pro.
Stretching and yoga.  The Basebar Pro is also great for stretching your muscles in more unique ways.  Although typical home items can be used as well, it is nice to focus all your fitness training on fitness equipment.
Metal bar allows for a comfortable grip.  The bar feels a little fat at first, but the metal material is just rough enough to ensure a firm grip without hurting your palms.  While some people may prefer to add chalk, gloves, or a towel, for the most part you shouldn't need them to have a safe grip.
Lifetime warranty.  The confidence they have in this item must be through the roof.  It's like LL Bean but for fitness equipment.  Any defects at any time for all eternity means they will fix the problem for you.

Cons:
Made in China.  This has nothing to do with the great quality of the Basebar Pro, but if you know me then you know that I am not a fan of outsourcing manufacturing to China.  What are the conditions of the factory this item is made in?  I hope they treat them well.  I always prefer USA made stuff.
Shipping can be hit or miss.  There are some reviewers who have said that their shipping times were very quick, and others who have said it took forever for the item to arrive.  In addition, there are people in some places that are SOL if they want this item shipped to them with the free shipping bonus.
Basebar Pro Review – Overall:
It may look simple and modest, but it will unlock so many options for all calisthenic levels.  Progression training for the tougher moves, everyday training with pull ups and rows and other upper body exercises, and so much more.  But perhaps my favorite thing about the Basebar Pro is that it is so compact and low yet still has SO much potential for everybody.  I strongly recommend this product!
My Score:  5 out of 5
Do you have a Basebar Pro, or any other of Baseblocks' products?  Let me know what you think of it in the comments below!