Affiliate Disclaimer:

This post may contain affiliate links, which means I make a small commission off purchases, at no extra cost to you. Read my full disclosure here.
Health & Safety Disclaimer

: This post may contain workout and health advice and information, designed for entertainment and/or educational purposes.  Without delay, always consult your doctor before trying out a new fitness regimen. Bodyweight MAX should not be used as a  substitute for professional medical services.
Rogue Fitness Ab Mat – The "AbMat" Review
Rogue Fitness has a lot of great fitness equipment for sale, and as you can tell I have been on a sort of Rogue Fitness kick lately.  This Columbus, Ohio based fitness company appeals to the masses because they have high quality equipment for all types of fitness trainers – weight lifting, HIIT, calisthenics, yoga, cardio, and more.  Today I'm going to talk about the Rogue Fitness Ab Mat, called the AbMat, but pronounced "ab-mat."  (Heh)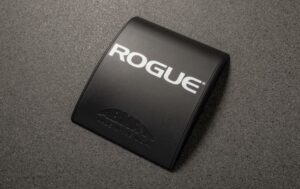 The Rogue Fitness Ab Mat is simple in design and specific in purpose: it is a mat.  For your abs.  For, like, ab stuff.  Do you need the long and short of it?  Well, this post is barely past 100 words, so I guess I should keep going.
Specs of the Rogue Fitness Ab Mat:
2.2 lbs
Dimensions: 14.5″x11.75″x2.75″
Made in USA
1-Year Warranty
Material: Molded integral skin polyurethane foam to prevent sliding
$30.
For such a simple piece of equipment, it seems like a lot of hard work and engineering know-how was put into the creation of the Rogue Fitness Ab Mat.  If you cannot tell already, it is not exactly a product I would recommend… but it's not because of the design, which is clearly very high quality.  It is more because there is most likely something in your home that you can already use as a sufficient substitute for the AbMat, if the exercises you're interested in doing line up with the AbMat's intended purpose.
Instead, you can roll up a couple towels and push them together.  Roll up a yoga mat.  Use a yoga ball or a firm pillow.  Workout benches also often have a section for situps and crunches.  All of these achieve the exact same purpose and will save you $30.  With any of these substitutes you can still hit your entire core with full range of motion ab exercises.
Not to mention, I am not a fan of situps.  Doing a situp means you have to arch your lower back – it's like you are bending down to pick something up off the floor, only your positioning is on the floor, lying on your back.  The motion is risky because you can hurt your lower back.  You are pushing it against the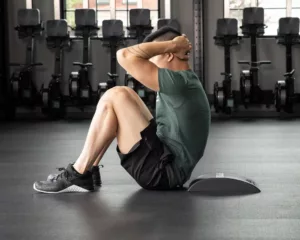 floor as you lift yourself up, and improper form increases the possibility of straining or herniating a disk.  And as situps are the primary reason for buying a Rogue Fitness Ab Mat, we have another big reason that I don't recommend this product.  Crunches aren't as bad in my opinion, but the range of motion isn't nearly as far and there is little reason to do them on an item like the AbMat.
So with all that said, I just don't see the point of this product.  Nonetheless, my reviews rely on weighing the pros and cons, so keep reading to make that final decision for yourself.
Pros:
High quality material.  The AbMat is made in the USA and is made up of a molded integral skin polyurethane foam.  It feels soft to the touch but will not give in to your weight as you lay on it and do your exercises.
Light and compact.  The AbMat doesn't take up much space and is easy to store.  At only 2.2 pounds, it is easy to get out of the way once you are done using it.
Easy to clean.  The textured finish on the AbMat is smooth and can easily be cleaned off with an antibacterial wipe or cloth.  No need to worry about germs or gross sweat coagulating.
Allows greater range of motion. For the workouts that you can do on the AbMat, the curved shape allows you to increase the range of motion versus doing them on the floor or ground.
Will not lose form or shape.  Repeated use of the AbMat will not cause it to lose its shape thanks to the high quality foam it is designed with.  You can do situps for days and not have to worry about flattening the mat.
Cons:
Easy to substitute.  Like I mention above, the biggest flaw with the AbMat is that I just don't see the use of it when you can make a sufficient substitute with other workout equipment or even household items.  A couple of towels or a firm pillow, a yoga mat rolled up, or a yoga ball all can serve the same purpose for situps while also serving the other purposes they are intended for!  Many workout benches also allow you to do full-range situps.
Seems expensive based on its limited usefulness.  $30 seems steep for a mat that does something any of the substitutes I mention above can do.  I know it is high quality material but nonetheless it's a hard sell given everything that I've mentioned already.
There are better ab workouts than situps.  And crunches, for that matter.  Not only are there better ab exercises, there are safer ab exercises.  Leg lifts, knee raises, ab wheel exercises, mountain climbers, the list goes on and on.  With proper form, you can do these other ab movements with far less risk of injury while still getting an amazing ab workout in.
Rogue Fitness Ab Mat: Conclusion
Obviously, I am not a fan of the the Rogue Fitness Ab Mat.  Compared to the other amazing products developed and sold by Rogue Fitness, I am surprised that this one is so popular.  I suggest saving your $30 and, if you absolutely have to, perform your situps with one of the many substitutes I mention above.  And no matter how you like to exercise your abs, always remember to stretch!
My Score:  2 out of 5
Do you like to do situps?  What are your thoughts on an item like the AbMat?  Let me know in the comments below!  And for other Rogue Fitness equipment info, check out what I have to say about their Jump Ropes and their Gymnastic Rings.