Affiliate Disclaimer:

This post may contain affiliate links, which means I make a small commission off purchases, at no extra cost to you. Read my full disclosure here.
Health & Safety Disclaimer

: This post may contain workout and health advice and information, designed for entertainment and/or educational purposes.  Without delay, always consult your doctor before trying out a new fitness regimen. Bodyweight MAX should not be used as a  substitute for professional medical services.
Rogue Fitness Gymnastic Rings
Rogue Fitness is one of my favorite fitness equipment companies, since a lot of their products are for people who like to do calisthenics.  The Rogue Fitness Gymnastic Rings page of their website contains several options for you if you are ready to take the dive into a new kind of suspension training and calisthenics.  They vary in style, price, and quality, so which one should you buy?  Keep reading to learn about all of them in a single post, and you will be able to decide which pair is the best one for YOU to buy.
What to Know When Buying Rogue Fitness Gymnastic Rings
Before getting to the list, I think it is important to point out the important features to look for when you're looking for a new pair of rings.  One is that the most ideal rings you can buy are made of wood (not plastic), although a select few may prefer metal, steel or rubber.  Durable strap materials, long straps, and strap markers are also important for a range of reasons, including ease of setup/takedown and safety.  Less important features that still may sway you include ease of assembly and the size of the rings themselves.  While there is no one-size-fits-all, the Rogue Fitness Gymnastic Rings will have a pair that is right for you, even if a certain feature is missing.  All the Rogue Fitness Gymnastic Rings you see here are made in Columbus, Ohio, so you know that TLC was put into their creation.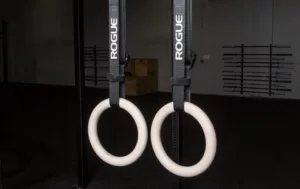 I wrote a much more detailed review on the Rogue Fitness Gymnastic Wood Rings, but it is important that I mention them here.  They are perhaps their most popular pair, and for good reason.  The birch wood of the rings means your grip will be A-okay even if you do not have tape or chalk.  The clamps make it easy to set up and take down, and the straps are fairly wide which adds a much higher degree of safety when your hanging from them.
Also important to note is that there are two different diameter options.  One is 1.25″, which I typically recommend.  The other is 1.11″, which is for people who actually are gymnasts.
The only negative is that the straps do not have measurements, so you will need to eye each strap to make sure they are even lengths.
If you love the feeling of cold steel in the palm of your hand, then you should pick the steel rings over the wood rings.  You can FEEL the strength and durability of these rings as you hang from them, and rest assured that they will last a very, very long time.  The steel rings are 1.25″ in diameter and made of true 14-gauge steel. Like the wood rings, the steel rings have clamps to make it easy to set up and take down, and the straps are fairly wide which adds a much higher degree of safety when your hanging from them.
Despite being powder-coated in such a way that improves your grip, you may still want to consider buying chalk or tape to keep your sweaty palms from eventually slipping.  And like the wood rings, the straps for the steel rings do not have measurements on them.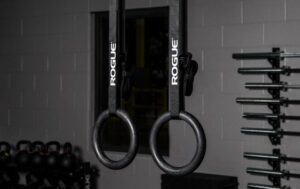 This is the least ideal pair of Rogue Fitness Gymnastic Rings to buy, but if you are on a budget then they are still a better option than a lot of the competition out there.  These rings are made of plastic.  They are the same diameter as the others (1.25″), and aside from being made of plastic, everything else you get with them is essentially the same as the steel and wood rings.  Being made of a sturdy plastic means they will last a very long time (until you decide to replace them).  Also, I definitely recommend using chalk or tape with this pair, because sweating will reduce your grip after only a little while.  Safety first!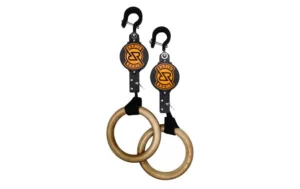 I am enamored with this pair.  All you have to do is look at them to see how great they are!  And as much as I would LOVE this pair for myself, my current situation would make it hard for me to use them conveniently.  Once I move to a bigger place and have a better workout area, I am absolutely going to the Rogue Fitness website and buying these super cool Rapid Rings.
First off, the Rapid Rings' straps do have measurements on them (I'm not sure why the others pairs don't).  So that's already a good thing in my eyes.  The straps themselves are a bit narrower than the other Rogue rings, and are not as long.  That said, these are most ideal in a home gym as opposed to taking them with you to a park and hanging them over a tree.
Simply hook them over a bar and use the clamps to extend the straps to the lengths you want.  It is quick and efficient and you can literally do an entire fully-body workout in far less time with the Rapid Rings than with a normal pair of rings.  The Rapid Rings ONLY come with the wood rings, so you cannot buy them with the steel or plastic (you can try to contact customer service to see if they'll make an exception for you).  Overall, these rings are super cool, but expensive and situational.
Rogue Fitness Gymnastic Rings: Conclusion
Now that you know about the four main types of Rogue Fitness Gymnastic Rings, I hope that you are able to determine which pair is right for you.  You can never go wrong with wood, but the steel option was the original Rogue Fitness Gymnastic Ring, and it is also a great option.  And for the rare person who has an ultimate gym setup, the Rapid Rings are a must-buy.  No matter your choice, Rogue Fitness Gymnastic Rings are high quality and should keep you safe and fit for a very long time.  And as always, remember to stretch!
Do you have a pair of Rogue Fitness Gymnastic Rings, or a different brand?  Tell me about it in the comments below!