Affiliate Disclaimer:

This post may contain affiliate links, which means I make a small commission off purchases, at no extra cost to you. Read my full disclosure here.
Health & Safety Disclaimer

: This post may contain workout and health advice and information, designed for entertainment and/or educational purposes.  Without delay, always consult your doctor before trying out a new fitness regimen. Bodyweight MAX should not be used as a  substitute for professional medical services.
Rogue Gymnastic Wood Rings REVIEW
Do you want a truly high quality set of gymnastic rings?  Then keep reading this Rogue Gymnastic Wood Rings review to learn why Rogue Fitness's high quality fitness products aren't limited to just a few of their items.  Calisthenics trainers should strongly consider buying their gymnastic rings from Rogue Fitness – they are fairly priced, high-quality, and have a long lifespan if they are well taken care of.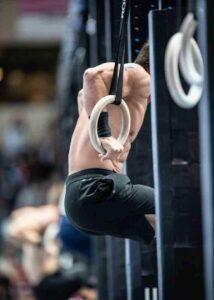 What to Look for When Buying Gymnastic Rings
Before I get to the review, I want to point out the most important key feature to look for when you're looking for a new pair of rings.  These include being made of wood (not plastic), durable strap materials, long straps, and strap markers.  Less important features that still may sway you into buying or not include ease of assembly and the size of the rings themselves.  As you will see, the Rogue gymnastic wood rings will check a lot of these boxes.
Specs of the Rogue Gymnastic Wood Rings:
Ring Type:  Wood
Ring Thickness:  Option for either 1.25 inches or 1.1 inches
Ring Diameter:  7 inches
Strap Type:  Nylon
Strap Width:  1.5 inches
Strap Length:  16 feet
3 Strap Color Options.  Tan, black and red.
Cam Buckles:  To keep the straps from slipping
Made in USA
2-Year Warranty:  For the rings
1-Year Warranty:  For the straps
Velcro on Straps. To keep unused strap out of your way.
$72.
Rogue Fitness is based out of Columbus, Ohio, and most of their products are made here in the USA.  With their gymnastic rings, the Baltic birch wood offers such a great grip for you that you may not need chalk or tape to help you hold on, even with the thicker ring option.  Going from plastic or metal rings to wood rings, you immediately feel the difference in your grips.  In nine cases out of ten, wooden grips are the best option for your gymnastic rings.  But, this is just one of the reasons I recommend Rogue Gymnastic Wood Rings.
Pros of the Rogue Gymnastic Wood Rings
Wood grips are awesome.  They are durable and will last a long time.  In addition, the more absorbent wood grips ensure that your hands are less likely to slip during your sweaty workouts!  Other types of rings just don't work this well or feel this good in your hands.
Two options for ring thickness.  Depending on your preferences, you can go with the thicker 1.25″ (my preference) or the thinner 1.11″ FIG type, which is more for actual gymnasts.
Wider strap is safer.  Safety is always a concern with gymnastic rings, and Rogue Fitness makes it a point to let you know the importance of safety with your straps.  You should check the straps and buckles regularly to avoid getting hurt.  Their wider straps offer much more security than a lot of the competition's thinner straps.

Note the thickness you want before you buy.

Metal cam buckles are secure.  The more assurance that you are safe while hanging and doing all sorts of crazy moves on these rings, the better.
A great deal.  For a pair of gymnastic rings that should last forever (the rings, not necessarily the straps and buckles), $72 for this product is an amazing deal.  Rogue Fitness is an incredible company all around, and you should expect anything you buy from them to be high quality.
Unlimited variety of workouts.  This could be said about any pair of gymnastic rings, so it's kind of an "all-around" pro for rings in general.  Pullups, dips, flies, leg lifts, and more advanced skills like levers and muscle-ups are all possible for greater ranges of motion than other calisthenics equipment like bars.  Get creative!
Velcro on straps is convenient.  For any unused straps for, say, higher elevated rings, you can simply attach it all to each other to keep it all out of your way.
Cons of the Rogue Gymnastic Wood Rings:
Straps do not last forever.  Depending on how often you use the rings, just keep in mind that you will eventually need to replace the straps.  Rogue Fitness is very up front about this because it affects the level of safety with your ring workouts.  This is going to happen no matter what pair of rings you buy, but it should be mentioned.
Lack of length markers.  While it isn't a make-or-break aspect of the product, I do think setting the rings up (especially for those who change the location and height a lot) would be much simpler if there were some length markers on the straps.  You will have to eye it every time you set the rings up or change their heights.  This is the biggest knock to the overall score.
Conclusion
I will continue to search for the ultimate pair of gymnastic rings, but I must say that the Rogue Gymnastic Wood Rings are pretty high up there.  I hope this review was helpful to you in YOUR search for the right pair of gymnastic rings, too.  In my opinion, they are worth the $72, and I believe that they should last a very long time – they may even outlive you.  They are durable, comfortable, and safe, and while holding them and hanging from them you will feel secure, even if you don't have tape or chalk.  I would have liked some length markers, as I think that omission is the product's greatest con of them all.  But, I still think this is a fair price and a solid investment, whether this is your first pair of gymnastic rings or a replacement for something of lesser quality.
My Score:  4.5 out of 5
Do you have your own pair of Rogue Gymnastic Wood Rings, or a different pair?  What have your gymnastic ring workouts been like so far?  Please let me know in the comments below.  And while you're visiting, check out my other equipment reviews here!  And of course, as always, remember to stretch!