Affiliate Disclaimer:

This post may contain affiliate links, which means I make a small commission off purchases, at no extra cost to you. Read my full disclosure here.
Health & Safety Disclaimer

: This post may contain workout and health advice and information, designed for entertainment and/or educational purposes.  Without delay, always consult your doctor before trying out a new fitness regimen. Bodyweight MAX should not be used as a  substitute for professional medical services.
Everlast Weighted Vest
Equipment Type:  Weighted Vest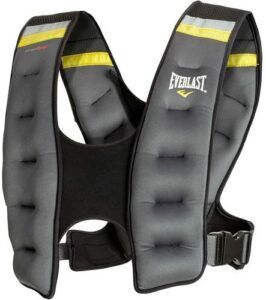 Includes: Reflective bands, adjustable straps, sand weight filling
Options:  10lbs.. or 20lbs.
Everlast is a very popular sporting goods brand, most often recognized for martial arts equipment such as gloves and mats.  Yet they are also very reputable when it comes to fitness equipment–for calisthenics folks like you and I, weighted vests can be major game changers!  I have used many weighted vests since starting calisthenics, and can honestly say that the Everlast Weighted Vest is one of my favorites!
Features:
Adjustable Straps:  Two buckles near each hip so it can fit as snugly as you need.
Reflective: There is reflective tape for increased visibility outside.
Two Weight Options:  Depending on your skill level, you can purchase either the 10lb or 20lb vest.
Pros:
Comfortable:  This vest features rubber padding for the shoulder area, and with each strap going from front to back near the hip, it is extremely comfortable and unobtrusive during any type of calisthenic workout.  Pushups, pullups, jump squats, you name it, the vest stays out of your way while keeping tight to your body and not flailing around.
Truly Improves Calisthenic Workouts:  Seriously, strap on this weighted vest for some extra challenge, and you will immediately notice how much harder it is to do a single pullup!  Imagine the strength you'll build when you regularly wear this vest during all your workouts!  Ten and twenty extra pounds make a huge difference!
Durable:  The vest will keep itself together for a long time, even when you're regularly doing explosive exercises like I do.  The sand is packed firmly in the knitting, and should not leak out.
Fast-Drying:  I sweat enough to soak through my shirt, but the neoprene and fabric on the inside of the vest keep it from staying wet and getting nasty and stinky.
Cons:
Some Reports of Seams Ripping:  On rare occasions, I've read of others' vests starting to rip within the first year or so.  Mine is still like new even a year in and with lots of jumping and explosive movements.  I do NOT run, so that may have something to do with it.
May Be Hard to Buckle for Some People:  I struggled with getting this buckled up when I started using it.  The buckles connect at an awkward spot where I had to reach around towards the backs of my hips, so it was a bit uncomfortable at first.
Is It Worth the Price?
These things aren't cheap, especially the 20lb one, but if you intend to use it with every workout then it will quickly pay for itself.  There are lots of weighted vests out there, and I plan on reviewing more in the future.  But I can honestly say that the Everlast Weighted Vest is my favorite one as of now, and has definitely made me much stronger with my calisthenics workouts.
My Score:  5 out of 5