Affiliate Disclaimer:

This post may contain affiliate links, which means I make a small commission off purchases, at no extra cost to you. Read my full disclosure here.
Health & Safety Disclaimer

: This post may contain workout and health advice and information, designed for entertainment and/or educational purposes.  Without delay, always consult your doctor before trying out a new fitness regimen. Bodyweight MAX should not be used as a  substitute for professional medical services.
As far as I can tell, the SportsRoyals Power Tower Dip Station is the main product that is sold by Sportsroyals.  Their website doesn't work, and when you check out their Amazon seller page, the only item being promoted is the Power Tower Dip Station.  This, in my opinion, should be a good sign, because all (or at least most) of the company's efforts are focused on this tower.  Still, there are a LOT of power tower/dip stations out there, so how does the Sportsroyals Power Tower Dip Station match up?  Check out my review below to learn more.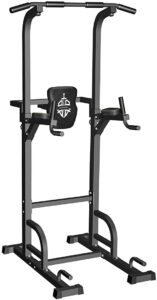 Sportsroyals Power Tower Dip Station
Equipment Type:  Power Tower
Includes: Pull-Up Bar, Dip Bars, Push-Up Handles, Leg Lift Station
Features:
Vertical Knee Raise Station: An adjustable back cushion, with two forearm cushions on either side, to hold up your body for leg lifts, knee raises, and other ab exercises.
Multi-Grip Pullup Station: An extended bar of about 41 inches, so you can do wide-grip pullups and other variations.
Pushup Handles: For a variation of a standard floor push up.
Dip Bars: Attached to the Knee Raise Station for full range of motion dips.
Adjustable Heights: Pullup bar can be raised or lowered depending on the height of the person exercising.
Pros:
Sturdy enough for most weights.  For its price, this is going to be one of the sturdier power towers you will find.  Its base legs are longer than the competitors', which reduces shakiness during pull ups.  Furthermore, the base legs have "T-Frames" with rubber grips at each end, so any swaying or sliding is minimized that much more.  There are also the additional frames added to various segments, which all add more stability despite seeming trivial at first.  As you set the tower up, you will quickly realize how sturdily it is designed.  Obviously, the heavier you are, the shakier the tower will be, but comparatively speaking this tower is quite stable.
Adjustable back cushion is a great idea:  This is an issue with many power tower users – sometimes the back cushion is too far away from the forearm cushions, or too close, depending on your body type.  Since the Sportsroyals Power Tower Dip Station allows you to adjust the back cushion forward and backward, you will be able to find the most comfortable spacing between it and where your forearms are resting when using the ab station.
Adjustable pullup bar height is great: If you aren't the only person using the tower, it is great to be able to adjust it depending on your height.
A fair price.  You're paying a bit more for this tower than the budget-typed towers, but based on its sturdier design and the materials used, I consider it to be a solid investment for calisthenic trainers who are planning on using it a lot.
Surprisingly easy to set up.  Everything needed to build it is included in the box, and while the instructions aren't perfect, the setup is more intuitive.  Once you have both of the bases set up, it only gets easier to add the rest.
Great, angled design for leg left station.  The forearm cushions are angled at a slight slant, which is amazing for when you're sweating, because it keeps your elbows from sliding to the sides.  This is a smart design choice that I never would have thought I needed!
Cons:
Angled dip bars feel awkward.  I'm not sure why they put the dip bars at an angle, because typically dip bars and parallel bars are completely flat.  They may have some unique benefits but I would have much preferred the standard, flat dip bars since they are the norm.
Forearm cushions are too short.  This isn't a huge problem, but your forearms may be too long to fully fit on the cushions.
Pullup bar isn't out far enough: My biggest annoyance is that my legs and knees always knock against the frame when doing pullups.  If the bar was further out, this wouldn't be an issue at all.  The solution on our end is to always make sure our knees are bent and try to keep the hips from swaying, but that doesn't always work.  This is enough of a con to make me advise against this tower.
Pullup grips are too hard.  Gripping the bar is uncomfortable and only gets worse the more you sweat.  Chalk or towels are recommended when doing pullups.
Double-check you receive everything in the box.  There are reports of tools, washers, screws, etc. missing from the box from many buyers.  Sadly, missing anything means you'll have to deal with the non-English speaking customer service, or just go get the missing parts at a hardware store yourself.  This shouldn't ever happen, but it does on rare occasions.
Sportsroyals Power Tower Dip Station – Overall
It's slightly more expensive than the other budget power towers I've reviewed so far, but the Sportsroyals Power Tower Dip Station still isn't over the top with its price and is sturdy enough for most people who want to use this type of equipment on a regular basis.  That low price and sturdier build are a good argument for suggesting this power tower as a "hard buy" on their own.  But, the adjustable parts are also really nice, and setting it up is easier than I thought it would have been.  Still, there are some issues…  Most of all, that darn pullup bar is too close to the frame, and I guarantee your legs and knees will be knocking against it even when you're trying to be careful.  On top of that, what's with the angled dip bars?  Not cool.  These are both huge disappointments, and are reason enough to pick a different tower.
Sportsroyals Power Tower Dip Station Review:  3 out of 5
Do you have a Sportsroyals Power Tower Dip Station?  What has your experience with it been like?  Let me know in the comments below!  And for other (and arguably better) power towers, check out my Weider Power Tower Review and my Relife Rebuild Your Life Power Tower Review.