Affiliate Disclaimer:

This post may contain affiliate links, which means I make a small commission off purchases, at no extra cost to you. Read my full disclosure here.
Health & Safety Disclaimer

: This post may contain workout and health advice and information, designed for entertainment and/or educational purposes.  Without delay, always consult your doctor before trying out a new fitness regimen. Bodyweight MAX should not be used as a  substitute for professional medical services.
Mark Bell's Sling Shot is an unusual band that wraps around your upper arms and across your chest.  It was originally created to assist weight lifters with bench pressing, but more recently they have expanded the product line to help with push up for.  So, while there are several variations of Mark Bell's Sling Shot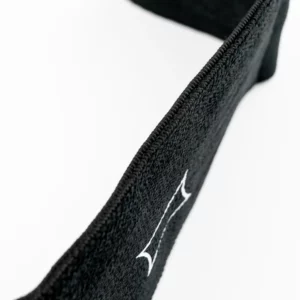 that are based on how much you can currently bench press, the focus in my review will (naturally) be for the Sling Shot Push Up.
Mark Bell's Sling Shot Push Up – SPECS
Low Tension.  Unlike the other Sling Shots, the Push Up version is designed with bodyweight workouts in mind.
Seven Sizes.  You will be able to find a size that fits you no matter your weight, height or gender.
Hand Washable.  Use cold water.
Supports Pushing Chest/Tricep Exercises.  You will feel the support at the bottom of your move: push ups, dips, and bench presses.
Designed with Post-Injury and Injury Prevention In Mind.  If you have a previous injury that affects your push ups, then Mark Bell's Sling Shot will help alleviate the pain that may come with your performance.
3 Color Options.  Gray, red & black, and black.
Promotes Proper Form.  The band presses into you and forces you to keep your elbows in. You can still go as deep as you want, but your form will always be correct.
Return Policy:  30 days
Warranty Policy:  1 year
Price:  $53.00
If you are skeptical about this product, I totally understand.  It seems like a superfluous addition to your workouts.  To me, it felt like yet another extra step to take before I could start working out.  And anyway, isn't my push up form fine already?
To be up front about this product… No, it is not necessary.  Far from it.  It is a workout accessory that is intended to support your pushing exercises, and doesn't do anything beyond that.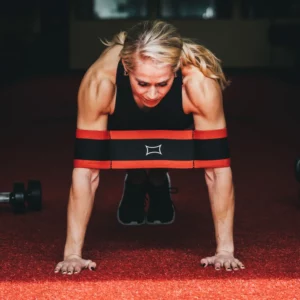 Still, it DOES do its job.  And if you have the extra cash you're willing to spend on a product that will see limited (but very effective) use, then I would recommend at least considering Mark Bell's Sling Shot.  Keep reading for more details.
Pros:
Forces you to have proper form.  You will NOT flare out your elbows when you use Mark Bell's Sling Shot.  This is one of the best parts about this item, because over time you can seriously hurt yourself with improper form!
Helps ease ongoing pain from previous injuries.  Specifically, shoulder and elbow injuries that you may have will feel much less pain – or no pain at all.  Feeling no pain from an old injury while doing pushing exercises will be an enormous relief to many people, and will motivate them to continue to improve.
Helps increase reps.  If you are struggling to increase your reps with push ups or dips, then the supportive aspect of Mark Bell's Sling Shot will help you reach your goals over time.
Prevents injury.  Because the Sling Shot is so restrictive (but flexible enough for the pushing exercises it supports), you will be much less likely to hurt yourself as you continue to push.
Generous refund and warranty policies.  If you don't like Mark Bell's Sling Shot, then you can return it for a refund within 30 days.  The warranty policy is very reassuring too, since you have a full year to use it to ensure there are no defects.
Often goes on sale.  They have sales all the time!  Take advantage of them!
Multiple sizes.  Be sure to carefully choose the right size for YOU, to avoid having to make exchanges.
High quality.  Although the warranty policy is great, there is a good chance you won't need it.  The Sling Shot is made of sturdy nylon and won't tear easily.
Cons:
Doesn't work as well with weighted pushing exercises.  If you are wearing a weighted vest, then there is a chance that the chest section of the Sling Shot will reduce your range because it is pressing against the vest.  I use my EZ-Vest a lot, which means I can't use my Sling Shot at the same time.  Bummer – but it's inevitable.
Doesn't allow push up variations.  Certain variations, like the wide grip or typerwrite push ups, are not possible.
Limited use.  Beyond the pushing exercises, you probably won't be wearing the Sling Shot for anything else.
Supports form for upper body only.  People seem to ignore the fact that push ups involve the ENTIRE body, including from the glutes down.  So while wearing Mark Bell's Sling Shot, your upper body form may be perfect, but your lower body form may still be poor.  Keep this in mind!
Website design is awful.  Where to begin?  You click a demo video and you can't close it.  You open the Comparison Chart but it shows the wrong products.  Product pages have descriptions for other products.  There are two stacked top navigation menus for some reason.  Customer service's email etiquette needs work.  It is disorganized and frustrating to navigate, which may turn a lot of potential buyers away!
Mark Bell's Sling Shot Push Up – OVERALL
Mark Bell's Sling Shot Push Up is a creative accessory that truly can help you improve your push ups and dips (and bench presses, if that's your bag).  It should last a long time and is worth the price as long as you consistently use it.  And although you can't use it for stretching, you should still remember to stretch!
My Score:  3.5 out of 5
Do you have Mark Bell's Sling Shot?  Which version do you have, and how has it helped you improve?  Let me know in the comments below!